Italian crisis: Silvio Berlusconi faces calls to resign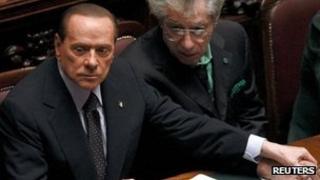 Italian PM Silvio Berlusconi is facing growing calls for his resignation, after apparently losing his majority in the lower house of parliament.
He won a budget vote, but received the votes of less than half of MPs.
After the vote, opposition leader Pierluigi Bersani urged him to step down. Allies including the Northern League had already said he should quit.
Borrowing rates have shot up in recent days, raising concerns over whether Italy can service its debts.
While Italy's deficit is relatively low, investors are concerned that the combination of Italy's low growth rate and 1.9tn euro (£1.63tn; $2.6tn) debt could make it the next country to fall in the eurozone debt crisis.
The European commissioner for economic affairs Ollie Rehn described the country's economic and financial situation as "very worrying".
Rival demonstrators gathered outside parliament, some shouting "Resign", others "We are not Greece".
'Real risk'
Mr Berlusconi has so far refused to resign, but said he would make a decision on his future after the vote. He is now consulting with senior ministers.
Correspondents say he faces two options:
Handing his resignation to President Giorgio Napolitano
Holding on to power, potentially prompting the opposition to call a vote of no confidence, to be held on Monday at the earliest
Reports say that Mr Berlusconi is going to see Mr Napolitano for discussions but not to resign.
"Let's wait for a few minutes, he'll decide what to do at the Quirinale," said Northern League leader Umberto Bossi, referring to Mr Napolitano's residence.
Mr Berlusconi has always maintained that he has enough support to continue to govern.
He spent the morning attempting to shore up his support with those MPs who had threatened to abandon him ahead of the vote.
But only 308 MPs voted for the budget, far below the 316 needed for an absolute majority.
None voted against, one abstained and 320 did not vote.
Many from the PM's own coalition refused to support him, joining the opposition in not voting.
"The government no longer has a majority in this chamber," Mr Bersani said immediately after the vote.
"I ask you, Mr Prime Minister, with all my strength, to finally take account of the situation... and resign.
"We all know that Italy is running the real risk in the days ahead of not having access to financial markets."
Before the vote, Mr Bossi said Mr Berlusconi had been asked to stand aside, adding that the former justice minister Angelino Alfano should take over.
Last month, the same budget measure was defeated in parliament by a single vote.
The BBC's Alan Johnston, in Rome, says Mr Berlusconi has survived more than 50 confidence motions in the past, but this crisis is different as it goes beyond Italian politics.
The international money markets are now forcing Italy to pay interest rates that could eventually ruin it, which means the pressure on Mr Berlusconi is extraordinary, he adds.
Doubt about Italy's governance and its ability to repay its debts have sent the markets seesawing over the past two days.
On Tuesday, the cost of government borrowing spiked at a new record of 6.76% after the vote, around the 7% threshold at which Portugal and Ireland were forced to accept bailouts.