Sarkozy exposed by gaffe over Israel's Netanyahu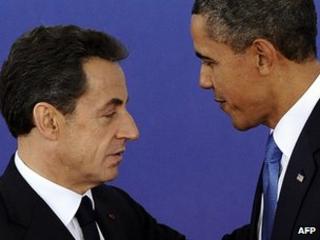 The first rule of politics: "Don't ever speak in front of a live microphone, if you don't want to be overheard."
The comments that have heaped embarrassment on French President Nicolas Sarkozy and US President Barack Obama were made in a backroom meeting, ahead of a bilateral press conference. Private - but now out in the open.
The journalists had been told not to plug headphones into the translation boxes they had been given. It was too good an invitation. Those who did were treated to a rare insight into the importance of personal relationships in international politics.
"I can't stand him any more," said Mr Sarkozy of Israeli Prime Minister Benjamin Netanyahu. "He's a liar."
Mr Obama replied: "You're sick of him. I have to deal with him every day!"
The comments were made on Thursday, yet the French reporters who were waiting in the conference hall gathered in a huddle and agreed not to publish what they had heard.
Was it the honour of the press pack - or the overbearing deference (even fear) with which French journalists approach the political class? You can't help feeling if similar comments had been overheard by British journalists, the tabloids would have had a field day.
Inevitably the quotes found their way into the Israeli newspapers and the damage was done.
Brusque with journalists
President Sarkozy has often displayed his impatience with questions from the floor.
Last week at the G20, the BBC's Paul Mason was treated to a "Sarko smackdown" for the temerity of asking whether French and German pressure was forcing political change in Greece and Italy. Mr Sarkozy did not hide his disdain.
So who will dare to ask the French president for his reaction to this story?
Regardless of any response that might follow (and so far there has been none), what it shows is that some world leaders do have a "difficult" relationship with the Israeli prime minister. Perhaps it is his intransigence on the building of settlements in Palestinian territories.
And while some will smile at the diplomatic tap dance that will no doubt follow, there is a serious side.
Peace negotiations, delicate as they are, depend on trust. And this quote reveals there is very little trust between the French president and the Israeli prime minister.
But then, Mr Sarkozy does seem to have a difficult relationship with several world leaders.
Particularly revealing is an article that appears today in Le Monde.
"European Disunion" is the headline. It features an image of President Sarkozy surrounded by other European leaders - and between them, the insults and sideswipes that over the years each has directed at the other.
Blunt language
Mr Sarkozy appears to have an opinion on all of them.
Of German Chancellor Angela Merkel, "she says she's on a diet then she helps herself to a second helping of cheese," he said. Of Spanish Prime Minister Jose Luis Rodriguez Zapatero: "perhaps he's not very intelligent."
When asked about Silvio Berlusconi's ability to deliver reform in Italy he was at least stuck for words - though the roll of his eyes spoke volumes.
Le Monde columnist Arnaud Leparmentier, quoting a member of the EU's European Council, said when fellow leaders pick up the phone to talk to one another, they will often joke, "do you want me to tell you what he (Sarkozy) said about you - or do you want to start by telling me what he said about me!"
All in all, not the image President Sarkozy would have hoped to portray at the G20 summit six months from an election. This was one of the last opportunities to show on the biggest stage that he is a leader of international stature, respected and liked.
The agenda of the G20 summit was hijacked by the Greeks - now it has been sidelined by his own indiscretion.