Greek talks on interim PM go into second day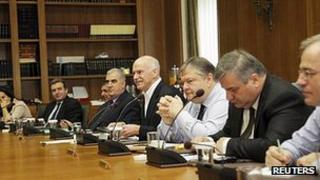 Talks between Greek political leaders to choose an interim prime minister are continuing for a second day.
Outgoing PM George Papandreou is reported to have told a cabinet meeting, "We will have a positive outcome by the end of the day."
The new interim leader will head a unity government tasked with saving the country from imminent bankruptcy.
The priority for Greece's new leadership is to ratify a vital EU bailout package.
Debt-ridden Greece is under mounting international pressure to calm global markets and resolve a political crisis that is threatening to spread across the eurozone.
Papandreou's farewell
Negotiations have been taking place between Mr Papandreou and Antonis Samaras, leader of the largest opposition party New Democracy.
Government sources told the BBC on Tuesday: "It seems that a deal is very close."
Mr Papandreou, who has agreed to step down, said farewell to his cabinet colleagues at the meeting, a minister quoted by Reuters said.
He also asked cabinet members to prepare their resignations, the Athens-Macedonian news agency reported.
Lucas Papademos, a former vice president of the European Central Bank (ECB), is widely seen as the frontrunner to replace Mr Papandreou.
Other possible candidates named in the Greek media include Nikiforos Diamandouros, Greece's European ombudsman, and Panagiotis Roumeliotis, Greece's representative to the International Monetary Fund (IMF).
Finance Minister Evangelos Venizelos - for a time considered to be a candidate - is expected to remain at the finance ministry.
The BBC's Mark Lowen in Athens says it is believed Mr Papademos has expressed doubts that an interim administration could be effective until proposed elections in February.
It appears he wants to stay in power longer if chosen, he adds.
Greek media voiced their frustration at the delays.
"Today is the last chance for the two main parties," daily newspaper Nea wrote in an editorial on Tuesday.
"They have to come up with a government strong enough to take the country out of the moving sand of political impasse that leaves us defenceless, at the mercy of the crisis. Time is up."
"A national unity government, right now," the daily newspaper Ethnos wrote on its front page, adding: "The country and the society cannot endure any more."
Greece's European partners are also pressing for a swift resolution.
Eurozone chief Jean-Claude Juncker has said the leaders of the two main parties must co-sign a letter reaffirming their commitment to the programme of bailouts and economic reforms before the next tranche from the first bailout - worth 8bn euros (£6.8bn; $11bn) - is handed over to Athens. Without it, Greece will run out of money within weeks.
Another hard-fought bailout deal for Greece agreed by the EU last month gives the government 130bn euros (£111bn; $178bn) and imposes a 50% write-off on private holders of Greek debts, in return for deeply unpopular austerity measures.
But Mr Papandreou threw that deal into turmoil last week with his call - now revoked - for a referendum on accepting the EU bailout.
Mr Papandreou agreed to stand down on Sunday, after days of upheaval.
Since then, he had been trying to build a national unity government to replace his Pasok party administration. However, Mr Samaras was refusing to negotiate unless his rival resigned.
The first steps in forming the new government were finally announced after late-night talks on Sunday between the two men, hosted by President Karolos Papoulias.
Greece's new political roadmap envisages elections being held - possibly on 19 February - once the new government has approved an EU bailout package.