Italy's Berlusconi faces key vote amid economy fears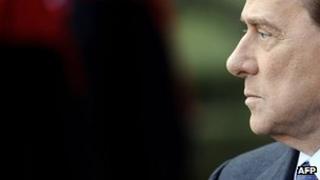 Italy's PM Silvio Berlusconi is facing a crucial vote on the budget, amid fears that Italy could be the next victim of the eurozone debt crisis.
Italian media say his main coalition partner, Northern League leader Umberto Bossi, has called on him to resign.
Mr Berlusconi, who has survived dozens of confidence votes during his tenure, has insisted he will not resign.
Italian government borrowing costs spiked at a new record of 6.74% on Tuesday because of the crisis.
European Union finance ministers are meeting in Brussels for talks.
Concerns over Italy are overshadowing developments in Greece, where political leaders are wrangling over the formation of a new unity government to impose austerity measures in return for international loans.
Defections
Italian lawmakers were expected to gather at about 1500 GMT on approving the Italian state financing bill, usually a procedural vote but one which has come sharply into focus amid the current debt crisis.
Last month, the vote of the same measure failed by one vote. Italy's Finance Minister Giulio Tremonti has already left the talks in Brussels to return to Rome to take part.
Several MPs from Mr Berlusconi's party have defected over recent days. Several more are reported to be considering defecting or voting against him, Italian media reports.
Mr Berlusconi has remained defiant, insisting that his government has all the support it needs but he held three hours of crisis talks with his main coalition partner, the Northern League and representatives from his own party late into the night on Monday.
Further talks are expected after the results of Tuesday's vote become clear.
Mr Berlusconi is reported to be short of the 316 votes needed to prove that he still has a majority.
According to La Repubblica, he has invited six of his own MPs who published a letter urging him to resign to a meeting ahead of the vote, to try and convince them to re-enter the fold.
But analysts say Mr Berlusconi may still win the vote as the centre-left may abstain, allowing the essential measure to pass.
Were he to lose, he could either resign immediately or be ordered by President Giorgio Napolitano to call a confidence vote.
His main coalition partner, the Northern League, said the party would not accept a temporary, technocrat government and would push for immediate fresh elections.
"We think elections are the only way, the only solution for the country," spokeswoman Nicoletta Maggi told the BBC. "The people must decide who is going to rule them, nobody else, through the vote."
'Baseless rumours'
On Monday, a defiant Mr Berlusconi dismissed talk of his possible resignation as "baseless".
"I don't understand how rumours of my resignation are circulating," Mr Berlusconi was quoted as saying by Libero newspaper.
If Mr Berlusconi were to lose the budget vote then it is hard to see how he could continue in power for long, says the BBC's Alan Johnston in Rome.
Our correspondent says it is certainly worth remembering that Mr Berlusconi is a master deal-maker and political infighter, having survived more than 50 confidence motions in the past.
But this crisis is different as it goes beyond Italian politics - it is instead linked to the international money markets, which have lost faith in Mr Berlusconi's ability to fix Italy's economy, our correspondent says.
The markets are now forcing this country to pay interest rates that could eventually ruin it, which means the pressure on Mr Berlusconi is extraordinary, he adds.
While Italy's deficit is relatively low, investors are concerned that the combination of Italy's low growth rate and 1.9tn euro ($2.6tn) debt could make it the next to fall in the eurozone debt crisis.
Shortly after markets opened on Tuesday, Italian 10-year bond yields spiked at 6.74%, before slipping back to 6.6%.
This is its highest level since the euro was established in 1999 and close to the 7% threshold which many analysts believe could lead to a so-called "buyers' strike" where investors take fright and refuse to buy. This was interest rate level at which Ireland and Portugal were forced to accept bailouts.
Approval rating drops
Mr Berlusconi has been the dominant figure in Italian politics for the best part of two decades, but lately his approval rating has hit a record low of 22%.
Notwithstanding the effects of the debt crisis, the multi-billionaire leader is currently a defendant in three trials for bribery, tax fraud, abuse of power and paying for sex with a 17-year-old girl.
On Monday, finance ministers from the eurozone met in Brussels to push ahead with a deal put together late last month.
After their meeting they called on the new government of Greece to approve in writing the terms of the international bailout in exchange for the release of the next tranche of funds.
Crisis jargon buster
Use the dropdown for easy-to-understand explanations of key financial terms:
AAA-rating
The best credit rating that can be given to a borrower's debts, indicating that the risk of borrowing defaulting is minuscule.
They also said they welcomed the monitoring of Italy to reassure the markets, and said they were seeking further clarification of when it would pass the economic reforms it has promised.
The European Union's Economic Affairs Commissioner Olli Rehn said he wanted answers from Italy by the end of the week.
"It is essential now that Italy will stick to its fiscal targets, ensure their implementation and intensify the structural reforms that can boost growth," he said.