Lehman Brothers' first share fetches small fortune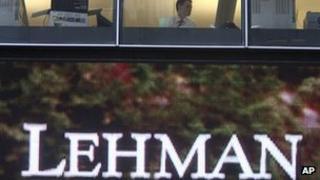 The first share issued by bankrupt investment bank Lehman Brothers has been auctioned for 24,000 euros ($33,000; £20,600) in Germany.
Bidding began at 5,000 euros in the auction house in the southern German city of Wuerzburg.
The share, issued in 1994 when the firm went public, used to hang in the office of former chief executive Richard Fuld.
Lehman Brothers collapsed in September 2008, an event seen as the trigger of the global financial crisis.
The buyer said he bought the green-and-white certificate, No LB 001, for its historic value as the "ultimate document" of the financial crisis.
The document was sold in spring this year along with other objects taken from the bank's offices, such as furniture or art works.
A dealer who recognised the share's potential value took it to the Historisches Wertpapierhaus auction house.