Italian PM Silvio Berlusconi denies resignation rumours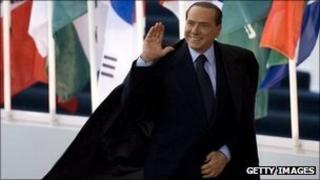 Italy's prime minister has dismissed rumours that he was about to step down as interest rates on government debt have jumped.
Silvio Berlusconi, who faces a crucial vote on Tuesday, said the reports were "unfounded".
His interior minister said the PM now lacked the majority to pass urgent economic reforms demanded by the EU.
Fears that the eurozone crisis could engulf Italy persist, with Italian 10-year bonds rising to a euro-era high.
Italy agreed a limited package of budget reforms last week but the Italian cabinet failed to agree to issue a decree implementing the changes.
Facebook denial
Mr Berlusconi now faces possible defeat on a normally routine vote to rubber-stamp last year's budget report, on Tuesday.
Were he to lose the vote, he could either resign immediately or be ordered by President Giorgio Napolitano to call a confidence vote.
Analysts say that despite defections from his own party, Mr Berlusconi is unlikely to lose the vote as the centre-left may abstain, allowing the essential measure to pass.
On the bond markets on Monday, 10-year Italian bonds crept close to the level of 7% which many analysts believe could lead to a so-called "buyers' strike" where investors take fright and refuse to buy. This was the threshold at which Ireland and Portugal were forced to accept bailouts.
The yield on the Italian government 10-year bonds jumped to 6.58%, its highest level since the euro was established in 1999.
The government debt of the eurozone's third largest economy now stands at 120% of GDP (national economic output).
On Sunday, European Central Bank (ECB) council member Yves Mersch emphasised that the bank would consider ending its purchases of Italian bonds unless Rome delivered on promised reforms.
Italian stock markets, meanwhile, rallied and then reversed gains after rumours of Mr Berlusconi's resignation were sparked by a newspaper editor close to the prime minister, and then denied.
In a video posted on his newspaper's website, Giuliano Ferrara, editor of the Il Foglio newspaper, said: "That Silvio Berlusconi is about to step down is now clear to everybody, it's a matter of hours, some say minutes."
But Mr Berlusconi posted a denial on his Facebook page, saying the reports were "without foundation" and, according to Corriere della Sera, telling aides: "I do not understand how they started circulating".
'Many lives'
As the political crisis swirled in Rome, Mr Berlusconi was reported to be meeting with his children and close confidantes at his villa near Milan.
He told the centre-right newspaper Libero that those who abandoned him were traitors.
"Tomorrow, the House will vote on the accounts, then I'll propose a confidence vote on the letter presented to the European Union and the ECB. I want to see who tries to betray me," he said.
The Italian media has estimated the number of potential party defectors at between 20 and 40, more than enough to topple the government.
Journalist and former head of state broadcaster Rai, Lucia Annunziata, said that she could not quite believe this would be the end of a man who has dominated political life in Italy for so long.
"We have been close to this final drama three times in the past year alone," she told the BBC.
"We have a saying in Italy - a cat has nine lives. He has used most of them but he still has many left."
'No alternatives'
Last week, six former Berlusconi allies urged him to quit after his government failed to agree urgent economic reforms.
Over the weekend, reports continued that those closest to him were urging him to stand down. Italian newspaper La Repubblica says these include his own party secretary, Angelino Alfano.
Mr Maroni, of the Northern League, Mr Berlusconi's main coalition partner, said: "It seems to me that there no longer is a majority."
"The serious problem is within [Mr Berlusconi's] PDL party: either it strengthens its position or we have to recognise that, quite simply, there no longer is a majority," he said, according to the Corriere della Sera newspaper.
He said that the government had made a series of commitments to the European Union which must be respected.
Mr Berlusconi has insisted that he has the support needed to pass the reforms and has said that there is no alternative to his government until 2013, AP reports.
A team from the European Commission is expected to arrive in Rome this week to step up its monitoring of how the government is handling the crisis.