Russia holds suspect over theft of women's skeletons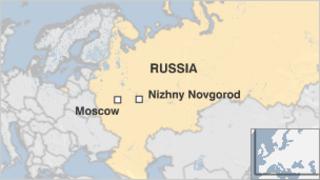 Police investigating Russian grave robberies are holding a man after the remains of at least 20 women were found in his flat, Russian media report.
Mummified remains of 27 women were found in the flat in Nizhny Novgorod, a police source told government newspaper Rossiyskaya Gazeta.
The suspect, 45, is a local historian, Russian news agencies say.
He is believed to have dug up the remains of young women at various cemeteries and put dresses on them.
An official statement on the case is not expected until after Friday, a public holiday in Russia.
The remains are believed to have been stolen from local graves in Nizhny Novgorod, a city on the Volga.
The suspect may be charged with desecrating human remains, according to Rossiyskaya Gazeta.
He apparently specialised in exploring cemeteries and was planning to publish a guide book, it adds.
Differing figures for the number of sets of remains found in the flat were given by Russian media, from "more than 20" to 27, as reported by Rossiyskaya Gazeta.