France's Charlie Hebdo plans reprint of Islam edition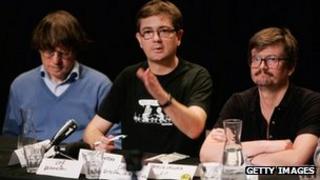 French satirical weekly Charlie Hebdo has said it plans a big reprint of its edition mocking Islamists, days after its offices in Paris were fire-bombed.
Its editor, Stephane Charbonnier, told Reuters news agency it planned to print 175,000 extra copies, after its first print run of 75,000 sold out fast.
The paper has been housed by French daily Liberation since fire bombs gutted its own offices.
French Muslim leaders have spoken out in defence of press freedom.
Charlie Hebdo, long known for its scathing attacks on the French establishment including religious institutions, caused controversy when it announced its latest edition would target Islamists, after their recent electoral gains in Tunisia.
It named the Prophet Muhammad as "guest editor" for Wednesday's edition and put a cartoon of him on the cover. Depiction of the Prophet is strictly prohibited in Islam.
On Tuesday night, two fire bombs were hurled at the offices. Nobody was hurt but the paper's office equipment was destroyed.
'Freedom to poke fun'
On Thursday, Liberation carried a four-page supplement, which reproduced the offending cartoon, and ran the headline "After their office blaze, this team defends the 'freedom to poke fun'."
The US-based extremist monitoring service, SITE, reports that jihadist forums have been celebrating the attack on the paper's office, which has echoes of the violent protests over the Danish Prophet Muhammad cartoons in 2006.
France has western Europe's largest Muslim community, numbering about five million out of some 65 million people.
Abderrahmane Dahmane, a Muslim former presidential adviser on religious diversity, said he had not been shocked by the Charlie Hebdo front page.
"We have a sense of humour in the world of Islam," he said. "What we sometimes say about Islam and the Prophet, among ourselves and in the presence of imams, is worse than what Charlie Hebdo wrote."
The head of the Paris Mosque, Dalil Boubakeur, said he was "extremely attached to freedom of the press, even if the press is not always tender with Muslims".