Spain election campaigning starts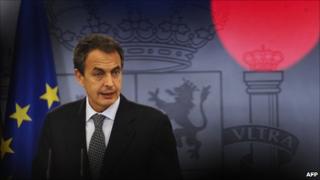 Campaigning has officially started for Spain's parliamentary elections, which are taking place in two weeks.
All the opinion polls point to the centre-right opposition Popular Party (PP) beating the governing Socialists (PSOE) by at least 15 points.
Spain is facing its worst economic crisis in decades, with an unemployment rate close to 22% - more than twice the European Union average.
There are also signs that the country is heading back to recession.
Punishment vote
This election will show exactly how Spaniards feel about the state of their economy.
"Election campaign begins, crushed by the economic situation," was today's headline in El Pais newspaper. "The unemployment election campaign begins," said El Mundo.
Job creation is the key issue here - almost the only topic of discussion in the campaign. Almost 5m people are out of work, and 1.5m households now have no wage-earner at all.
The Socialist government of Prime Minister Jose Luis Rodriguez Zapatero is trying to blame this desperate state of affairs on the global economic crisis.
But all the polls so far predict its resounding defeat.
They suggest it will be a punishment vote, which will likely hand the Popular Party an all-out majority in parliament.
The party's candidate for prime minister, Mariano Rajoy, has already lost two general elections.
This time, victory for Mr Rajoy, 56, would be almost by default.
Positioning himself carefully as a moderate, he is pitching this election as a vote for change whilst steering clear of radical proposals.
Mr Rajoy slammed Spain's unemployment rate as "unbearable and unacceptable" as the latest data showed 4,350 people per day losing their job in October.
The Socialists, he said, "did not know how to manage Spain's economy, and now the Spanish people are paying the price for that."
He promises he will shepherd Spain out of crisis - recovering the shaky confidence of international investors and so reducing the government's ominously high borrowing costs.
Contagion fears
The debt crisis in Greece has raised concerns over the solvency of other weak economies, like Spain.
So the PP campaign slogan calls on voters to "Join the change!"
The party manifesto stresses its commitment to cutting the country's swollen budget deficit in line with EU requirements.
It proposes tax breaks for savers and small firms who hire staff; benefits for those who take on young employees; more flexible labour contracts and wage negotiations and big cuts in red tape, to encourage entrepreneurs to set up in business.
At the same time, it pledges to protect public healthcare and education, saving money through efficiency and better management.
Welfare at stake
The PSOE's candidate for prime minister is former Interior Minister Alfredo Perez Rubalcaba.
The party's campaign slogan captures its embattled mood. "Fight For What You Want!" it urges voters, and posits the party as the only true defender of the welfare state.
Mr Rubalcaba has pledged to raise taxes on the wealthy to help pay for that. He warns that the PP is planning deep and painful cuts in social spending to meet its deficit targets.
He argues that too much austerity endangers economic growth and he is calling for stimulus investments, at a European level.
The PSOE insists the battle is not over.
It still hopes the historic end of violence by the Basque separatist militant group Eta will bring in votes. And its rhetoric has begun to include clear appeals to the 'Indignant' movement which began a wave of street protests back in May.
But Mr Rubalcaba was the number two in government before the election campaign and his party has been in power for eight years.
So his claim that he now has the solution to Spain's problems rings pretty hollow with many voters.
Two weeks of intense campaigning and debate lie ahead. But as it stands, the Socialists appear to be heading for overwhelming defeat at the polls.
The latest survey from the government's Centre for Sociological Research (CIS) suggests the Socialists are heading for their worst ever defeat - a full 16.7% behind the PP.