Ireland to close embassies to Vatican, Iran and E Timor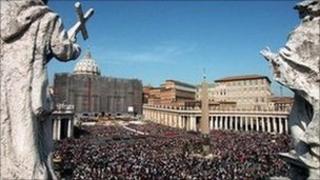 The Irish Republic has decided to close its embassies to the Vatican and two other nations on cost-saving grounds.
It said the closure of the missions in Vatican City and also in Iran and East Timor would save about 1.25m euros (£1.1m; $1.7m) a year.
But Dublin stressed that the move was not related to a clerical child abuse row between Ireland and the Holy See.
In July, a report accused the Vatican of aiding child-abuse cover-ups in Cork - a claim denied by the Holy See.
The Vatican later recalled its special envoy in Dublin to discuss the impact of the damning Cloyne Report.
'Profound disappointment'
"It is with the greatest regret and reluctance that the government has decided to close Ireland's (embassy) to the Holy See," said a statement from the Irish foreign ministry on Thursday.
It added that Dublin "believes that Ireland's interests with the Holy See can be sufficiently represented by a non-resident ambassador".
Irish Foreign Minister Eamon Gilmore said diplomats at Ireland's Italian embassy would move into the villa currently used by its Vatican staff.
Mr Gilmore pointed out that the government had to implement cuts to meet targets set out in Ireland's economic rescue deal backed by the European Union and the International Monetary Fund.
Ireland - like many other nations - has maintained two diplomatic posts in Rome: one for the Holy See, the other for Italy.
Predominantly Catholic Ireland has traditionally had close relations with the Vatican, where the embassy was opened in 1929.
Responding to the closure announcement, Cardinal Sean Brady, the ecclesiastical head of the Roman Catholic Church in Ireland, expressed his "profound disappointment".
"I hope that today's decision will be revisited as soon as possible," he said in a statement.