Call for Berlusconi to step down as Italy worries grow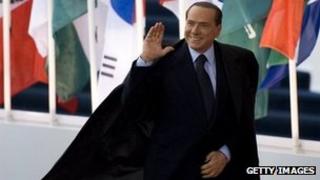 Six former allies of Silvio Berlusconi in the Italian parliament have urged him to quit after his government failed to agree urgent economic reforms.
The rebel MPs wrote an open letter calling for a "new political phase and a new government" to enact reforms agreed with Italy's eurozone partners.
Mr Berlusconi told fellow G20 leaders at a summit in Cannes that Italy had always honoured its debts.
But Italian government bonds came under new pressure amid market jitters.
Yields on 10-year BTP bonds hit more than 6.3%, creeping closer to the level of 7% which many analysts believe could lead to a so-called "buyers' strike" where investors take fright and refuse to buy, Reuters news agency reports.
The rebel MPs, three of whom have already left the ruling coalition, wrote to Mr Berlusconi in a letter published by the daily Corriere della Sera.
"Be the backer of a new political phase and a new government which would have the task, from now until the end of the legislative term, of implementing the agenda agreed with our European partners and with it, the indications which came from the European Central Bank," they said.
The letter was signed by Roberto Antonione, Isabella Bertolini, Giustina Destro, Fabio Gava, Giancarlo Pittelli and Giorgio Stracquadanio.
On Wednesday night, a cabinet meeting in Rome broke up without agreement on a comprehensive package of emergency reforms.
Instead, there were only plans to add amendments to bills already before parliament.
Mr Berlusconi went to Cannes without being able to produce any dramatic evidence of progress, the BBC's Alan Johnston reports from Rome.
But the Italian prime minister sought to assure fellow G20 leaders that his country's overall wealth was far higher than its stock of debt.