Ulysses watch to go up for auction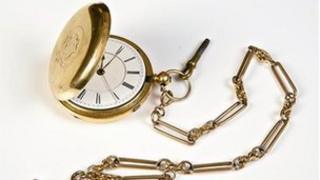 A gold watch worn by a character in James Joyce's Ulysses will be auctioned next month after turning up unexpectedly in a Dublin sale room.
The Irish Times has reported that Adam's auctioneers have been asked to sell the watch by a relative of a man featured in the novel.
The newspaper reported that while most characters in the epic novel are fictitious, Joyce also refers to John O'Connell who was the real-life caretaker of Glasnevin Cemetery.
In one scene, Joyce mentions the watch: "The caretaker hung his thumbs in the loops of his gold watch chain and spoke in a discreet tone to their vacant smiles."
After his death in 1925, the watch became a family heirloom referred to as the "Ulysses watch".
The famously chaotic and impenetrable novel provoked significant controversy when it was first published in 1922, due to its alleged obscenity.
It has since been hailed as one of the greatest of all modern novels and 16 June, the single day chronicled in the book, is celebrated in Ireland as Bloomsday, after the novel's main character Leopold Bloom.