Croatia ex-PM Ivo Sanader denies corruption at trial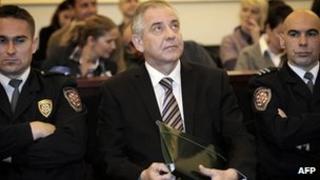 The trial of former Croatian Prime Minister Ivo Sanader on charges of corruption has begun in Zagreb.
Mr Sanader, 58, pleaded not guilty and dismissed the charges against him as a "fabrication".
The former prime minister is alleged to have received nearly $695,000 (£432,000) for arranging a loan from the Austrian Hypo Bank in 1995.
He is the most high-profile figure to have been arrested in Croatia's recent anti-corruption drive.
Clampdown on corruption
The trial was due to start last week but was postponed due to concerns over Mr Sanader's health.
Mr Sanader served as prime minister in 2003-2009. As deputy foreign minister in the mid-1990s he is said to have facilitated Hypo's entry into the Croatian market. At the time Croatia was at war, fighting for independence from Yugoslavia.
"I never asked for or received a commission for credit given to the foreign ministry by Hypo Bank," he said on Thursday.
Mr Sanader was extradited from Austria in July. Other anti-corruption investigations he faces include one involving the Hungarian oil firm MOL. He denies wrongdoing.
Croatia is gearing up for EU membership, hoping to join in July 2013. Pressure from Brussels has pushed the country to weed out corruption and speed up investigations.