Belarus human rights activist Ales Belyatski on trial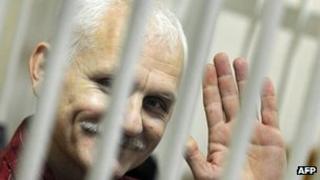 One of Belarus' most prominent human rights activists has gone on trial in Minsk.
Ales Belyatski runs an organisation called Viasna (Spring) which monitors the government's activities against opposition figures.
He was arrested in August and charged with tax evasion after the authorities discovered that he held bank accounts in Poland and Lithuania.
Human rights groups say the trial is an attempt to silence him.
Mr Belyatski maintains that the accounts were necessary to fund Viasna's work as the Belarus government prevented him from holding money inside the country.
Vyasna has closely tracked Belarusian President Alexander Lukashenko's ongoing clampdown against the country's opposition.
Mr Belyatski's arrest caused controversy when it was discovered that Poland and Lithuania had supplied Belarusian officials with his bank details.
Polish officials later apologised for aiding Mr Lukashenko in his campaign against the Belarusian opposition.
'Entrapment'
Pressure group Human Rights Watch (HRW) called on Mr Lukashenko's government to immediately release Mr Belyatski.
"For almost two decades the Belarusian authorities have created obstacles to prevent human rights groups from doing their work," said Hugh Williamson, HRW's Europe and Central Asia director.
"As a result, human rights defenders like Belyatski are being forced into a legal grey area that the government exploits to punish them," he said.
"In reality, what happened to Ales Belyatski is pure entrapment."
Mr Lukashenko won a fourth term as president in disputed elections in December.
After the poll, both the EU and US condemned Mr Lukashenko's crackdown on dissidents and imposed sanctions on him and other Belarusian officials.