Q&A: Greece referendum row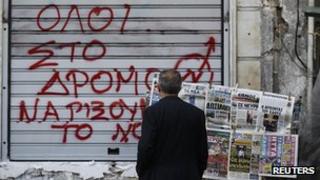 Greek Prime Minister George Papandreou is in a full-blown political crisis after his shock decision to hold a referendum on the latest EU bailout plan for debt-laden Greece.
Several MPs in his ruling Pasok (socialist) party have rebelled against his decision, including Finance Minister Evangelos Venizelos, whom he appointed in June.
Mr Papandreou's EU partners have warned him that if the referendum goes ahead the voters must be asked whether they want to stay in the eurozone or not.
Can Papandreou survive this crisis?
The pressure is mounting on Mr Papandreou to abandon his referendum plan. He announced the plan earlier this week - without having consulted his cabinet or other EU leaders.
Mr Venizelos says Greece's membership of the eurozone is a "historic conquest" that cannot depend on a referendum. Back in 2007 he staged an unsuccessful leadership coup against Mr Papandreou after a general election defeat.
Three Pasok MPs now say they will not support Mr Papandreou in a key parliamentary confidence vote on Friday. That cuts his support to 149 MPs out of 300, so he risks losing the vote unless he can woo some opposition MPs to his side.
Losing the vote would trigger the government's collapse. That would lead to either early elections or a national unity government - a coalition of Pasok and one or two opposition parties.
Mr Papandreou would struggle to survive such a defeat and he would almost certainly have to abandon the referendum plan.
The numbers are crucial, because a referendum cannot be held unless parliament first approves a referendum bill.
The political instability triggered by a defeat for him would only deepen the crisis for Greece and the threat of contagion to other eurozone countries.
What is the impact of the crisis on the eurozone?
The referendum announcement unnerved financial markets again - just days after the EU had painstakingly negotiated a deal to shore up Greece and the euro.
On Wednesday Mr Papandreou was summoned to an emergency meeting in Cannes with French President Nicolas Sarkozy and Germany's Chancellor Angela Merkel, where they warned him that Greece must stick to the terms of the EU rescue deal agreed last week.
After the talks Mr Papandreou said the referendum could take place on 4 December and would be focused on "whether we want to remain in the eurozone".
Greece will not get the next tranche of its current bailout funding until after that vote, he was told.
Why call a referendum?
For months Mr Papandreou has faced sharp criticism over his handling of the Greek debt crisis. The attacks have come from colleagues in Pasok, as well as from opposition MPs and thousands of ordinary citizens in the streets.
Greece has been paralysed by public sector strikes, as harsh austerity measures are pushed through to reduce the country's debt mountain.
Critics have accused Mr Papandreou of sacrificing the welfare of his people for the sake of wealthy bankers and other lenders. They say Greece has been made a scapegoat for the ailing eurozone and that the government has allowed Greek sovereignty to be whittled away.
So Mr Papandreou made an unusual choice for unusual times. He wants the plan for a second Greek bailout from the EU and International Monetary Fund - worth 100bn euros (£86bn; $137bn) - to have the nation's clear approval.
The referendum - if it happens - will be the first in Greece since 1974, when the country voted to abolish the monarchy, shortly after a period of military dictatorship.
"The referendum will be a clear mandate and a clear message in and outside Greece on our European course and participation in the euro," a statement from Mr Papandreou's office said.
What would a Greek No vote mean?
There are dire predictions about a No vote. Opinion polls suggest that most Greeks oppose the new EU-IMF bailout plan.
A No vote would make a disorderly default likely for Greece, as its current lenders would regard it as a lost cause. That would mean holders of Greek sovereign bonds taking a big loss - bigger than the 50% write-down that the EU has proposed.
Such a default would almost certainly push Greece out of the eurozone, triggering a chain reaction, as the other "peripheral" eurozone economies - Portugal, Spain, Ireland and Italy - would find it impossible to service their own debts.
France would probably lose its triple-A credit rating, as French banks hold a large pile of Greek debt. A meltdown in the eurozone bond market could ultimately doom the euro.
Yet opinion polls also suggest that most Greeks want to stay in the eurozone. A cleverly phrased referendum question could warn them of disaster if Greece were to abandon the euro - and link that scenario to a rejection of the bailout plan.
As President Sarkozy put it, "now it is up to them to decide if they want to stay in the euro with us".
What does the Greek opposition say?
The leader of the conservative opposition New Democracy party, Antonis Samaras, has called for early elections.
He says he does not disagree with the debt reduction targets - but he rejects Pasok's methods.
He says the government's tax increases have failed to boost revenue - so he wants to renegotiate the bailout terms. He believes cutting income tax and sales tax (VAT) would help reinvigorate the recession-hit Greek economy.
He has also attacked Pasok's plan to put thousands of public employees on reduced wages and "in reserve". He says the austerity "medicine" is too bitter, and proposes a big retraining programme instead.
New Democracy could have a credibility problem with Greece's international partners, however, as the previous New Democracy government of Costas Karamanlis failed to curb the massive accumulation of debt.