Greece's Papandreou in crisis talks over bailout revolt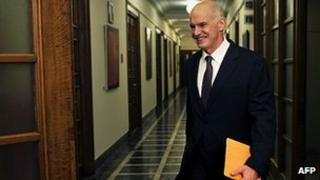 Greece's government is holding an emergency meeting following a day of turmoil triggered by PM George Papandreou's announcement of a referendum on the proposed EU bailout.
One MP from the governing Pasok party has resigned, cutting Mr Papandreou's parliament majority to two.
Six other leading party members have called on him to resign.
US and European markets, calmed by last week's EU bailout plan, have fallen sharply since the announcement.
The Greek government also faces a crucial confidence vote in parliament on Friday.
News of the referendum even took Greece's Finance Minister Evangelos Venizelos by surprise, Greek media reported.
As the latest crisis unfolded, it was announced that Mr Papandreou would meet German Chancellor Angela Merkel and French President Nicolas Sarkozy along with leaders of the EU, the International Monetary Fund (IMF) and eurozone leaders on the fringes of the G20 summit in Cannes on Wednesday.
The Greek opposition has called for early elections, saying the referendum jeopardises Greece's EU membership.
Mr Papandreou says he needs the backing of a referendum to successfully implement the tough reforms demanded by international lenders.
He has, however, ruled out elections.
Last week, eurozone leaders agreed on a 100bn-euro loan (£86bn; $140bn) to Athens and a 50% debt write-off.
In return, Greece must make deep cuts in public spending, slashing pensions and wages and making thousands of civil servants redundant.
On Tuesday, Pasok MP Milena Apostolaki quit the parliamentary group in protest but said she would keep her seat to fight the referendum as an independent.
"I have an obligation to resist this erroneous political choice that divides the nation," she said.
Shortly afterwards, another MP from Mr Papandreou's centre-left Pasok party, Vasso Papandreou (no relation), called for a government of national unity, to be followed by snap elections.
"I call on the president to convene the council of political leaders with the goal of forming a government of national salvation in view of safeguarding the EU package agreed on 27 October, and then to immediately hold elections," said Ms Papandreou, who chairs the parliamentary committee on economic affairs.
Antonis Samaras, leader of the main opposition New Democrats, met Greek President Karolos Papoulias for talks on Tuesday morning.
"In order to save himself, Mr Papandreou has posed a dilemma of blackmail that puts our future and our position in Europe in danger," Mr Samaras said after the meeting.
Mr Papandreou's office said that in a phone call with Chancellor Merkel earlier on Tuesday, the Greek prime minister had insisted the referendum would "strengthen" Greece in the eurozone and globally.
President Sarkozy and Chancellor Merkel earlier issued a joint statement saying they were "determined to ensure with their European partners the full implementation, as quickly as possible, of decisions taken by the (EU) summit, which today are more necessary than ever".
"France and Germany are convinced that this agreement will allow Greece to return to sustainable growth."
The next Greek elections are not scheduled until 2013.
Opinion polls in Greece show that most people do not support the austerity deal. The most recent general strike, on 19-20 October, brought tens of thousands out on to the streets nationwide.
No date for the referendum has yet been announced, but Mr Papandreou indicated it would take place in a few weeks' time, once the details of the bailout package have been finalised.
Mr Papandreou has called a vote of confidence in his government for Friday.
Meanwhile, Mr Venizelos was taken to hospital on Tuesday morning, suffering from stomach pains. His office said he was likely to be released by the evening.
On Tuesday evening, state-run Net Radio reported that Mr Venizelos was to undergo surgery, however there was no official confirmation.
Mr Venizelos was given no warning that Mr Papandreou intended to call a referendum, an anonymous government official told the Reuters news agency, on condition of anonymity.
"Venizelos had no idea about the referendum. All he knew about was the vote of confidence," he said.
"He told Papandreou he should inform foreign partners and a letter was drafted in the early hours."