Rabbis meet to discuss Dutch bill on ritual slaughter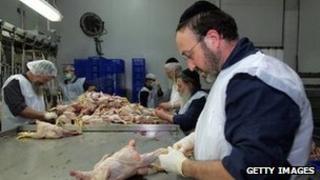 A Dutch move to curb the ritual slaughter of animals is topping the agenda at a meeting of European Jewish leaders in the Polish capital Warsaw.
It is the largest gathering of rabbis in Poland since World War II, when the country's Jewish community, the world's second-largest, was almost wiped out.
Dutch MPs passed a bill in June requiring animals to be stunned before slaughter, to avoid unnecessary pain.
But in Jewish "shechita" slaughter, the animals die fully conscious.
Both Jewish and Muslim groups argue that properly performed ritual slaughter does meet animal welfare standards, and say the Dutch bill restricts religious freedom.
The Dutch upper house of parliament is due to vote on the bill in December.
Debate over the issue has become a focus of animosity towards the Netherlands' 1.2 million-strong Muslim community. The Dutch Jewish population is comparatively small, at 50,000.
'Humane way'
"There needs to be a place where religious rights meet animal rights - which for us is ludicrous, because shechita is the humane way," said Poland's chief Rabbi, Michael Schudrich.
He told AFP news agency that the last time shechita was banned across Europe was under the Nazis, adding: "Although no one's claiming that Holland is Nazi, it certainly does trigger in us very bad memories."
The chief rabbi suggested the Dutch ban had less to do with ritual slaughter than "internal social problems with minority groups".
The head of the Netherlands' Party for the Animals, Marianne Thieme, has denied the bill is an attack on religious minorities.
She argues the law is necessary because scientists agree that animals suffer pain or fear if they are not stunned before slaughter, yet current regulations allow exceptions for ritual slaughter.
The rabbinical conference is taking place in Poland for the first time to acknowledge the resurgence of its small Jewish community, which has grown from just a few thousand to more than 20,000 in the last three decades, the BBC's Adam Easton reports from Warsaw.
Jewish settlements in Poland can be traced back more than 1,000 years. By the 16th Century, four out of five Jews lived on Polish soil.
In 1939, the community numbered more than three million. But one of the most creative communities in the diaspora was all but wiped out in the German extermination centres built in Poland, our correspondent adds.