Netherlands divided over Angolan teen asylum seeker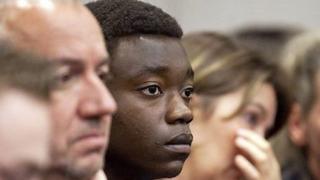 The case of an 18-year-old Angolan asylum seeker has proved tricky for the Dutch parliament, as politicians debate whether Mauro Manuel should be given the right to remain in the Netherlands.
The teenager has become something of a celebrity here, appearing on chat shows and on the front pages of almost all the daily newspapers.
His case has captured the public imagination and is being used to highlight what some believe is a huge flaw in the Dutch asylum system.
At the moment there are around 75 children fighting similar battles to be allowed to stay in the country.
Now that Mauro has turned 18, under Dutch immigration law he must be deported. But his supporters argue it is not that simple.
On Tuesday Dutch MPs rejected two motions that would have given him a Dutch residence permit.
Next week they are expected to vote on a compromise motion which would allow him to stay until he hears if a temporary, four-year student visa has been granted.
'Integrated'
Mauro Manuel was stashed on a plane by his mother, who feared her young son would struggle to survive in their war-torn homeland of Angola.
When Mauro arrived in the Netherlands he was picked up by police and eventually fostered by a family in the southern Dutch province of Limburg.
Eight years on Mauro is taking a vocational course at college, he is a decent footballer and his foster parents have recently had a son who Mauro counts as his little brother.
He even speaks fluent Dutch with the unmistakable Limburg drawl.
The president of the Green Party, Henk Nijhof, was so angered by the thought of his country expelling someone who he believes is so integrated in the community he started a campaign to support the family.
"Enough is enough and we have to stop this," he said.
"Rules are rules, but you cannot switch off your heart and your brain. You must remember what's good and what's right and this is just not right."
Political opposition
Last week, Dutch Immigration and Asylum Minister Gerd Leers ruled that Mauro had no right to stay in the Netherlands.
Despite significant political opposition Mr Leers acknowledged that there were many others in Mauro's situation and therefore he could not make an exception.
The case is further complicated by the existence of the increasingly influential anti-immigration Freedom Party (PVV) leader Geert Wilders.
Mr Wilders has led calls for Mauro to be deported and has threatened to stop lending support to the leading Liberal Party if they allow him to stay.
In the Netherlands the coalition government relies on support from the populist PVV to get many of their policies through parliament.
So the withdrawal of that support could have damaging repercussions and some have suggested it could even force elections.
It depends now on the Christian Democratic party - so far two of their members have agreed to back Mauro's right to remain.
If two more do the same it could potentially be enough to force a change in the current law.
However, if another fundamental Christian group supports the government it will mean a small majority in favour of forcing Mauro to be repatriated.
Supporters
The United Nations children's agency, Unicef, has also intervened, stating that if the teenager were to be uprooted now, at a time when he is fully established and integrated in Dutch society, it would be a contravention of the UN Convention on Children's Rights and "seriously impair" his development.
A representative for the Dutch children's ombudsman Marc Dullaert said it was a "shocking" case and that if Mauro Manuel were deported he would fight the decision at the European Court in Strasbourg.
On Tuesday Mauro was joined by about 700 supporters and celebrities at the Dutch parliament to submit a petition signed by more than 55,000 people who believe he should be given the right to remain.
A guitarist who performed at the protest said: "We're here for the same reason as everyone else - we don't want Mauro to go.
"It's a really horrible situation. He's been to school, he speaks Dutch, he is Dutch."
Mauro himself has made a final plea to the politicians who hold his fate in their hands.
"I promise I will always try to be an asset to the Netherlands," he said.
"Please let me stay here forever. My future is in the Netherlands. I would like to be an example to others and work for Dutch society all my life."