Ferrari boss calls on Italy PM Berlusconi to resign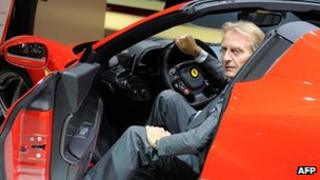 The chairman of Ferrari - one of Italy's most prominent businessmen - has urged Prime Minister Silvio Berlusconi to resign so that the country can deal with its debt crisis.
Luca Cordero di Montezemolo said Italy had reached "the point of no return".
He called for a "government of national salvation", in an open letter to the daily La Repubblica.
Mr Berlusconi is under pressure to speed up austerity measures amid feeble growth and a huge public debt.
He used to enjoy strong support among Italian business leaders but a growing number have begun calling for his resignation.
His image has been tarnished by sex scandals and a string of court cases.
Mr di Montezemolo said that "if Berlusconi continues to put his ambitions before the good of Italy" his political journey would "end in the worst way".
"There is not a minute to lose. Italians' savings, social cohesion and Italy's continued membership of the euro are at risk," he said.
Italy's public debt stands at 1.8 trillion euros (£1.6tn), equal to 120% of GDP.
At last week's eurozone summit EU leaders urged Mr Berlusconi to fulfil his pledges on new austerity measures and reforms.