Irish vote to reject inquiries amendment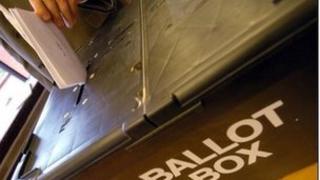 A proposed amendment offering the Irish parliament more powers to set up inquiries into matters of public importance has been rejected by voters.
The referendum on Houses of the Oireachtas inquiries was rejected by a majority of more than 116,000 votes.
Voters going to the polls to choose a new Irish president last Thursday, were also asked to vote on the amendment.
A second proposed amendment on reducing judges' pay passed easily.
In a statement, the Irish government said it welcomed the passing of the 29th amendment on judges' pay.
However, it said it was "disappointing" the 30th amendment on Oireachtas inquiries had been "narrowly defeated".
Reflection
The government said it accepted the people's decision and would "reflect and carefully consider" the vote outcome.
The result on the Oireachtas Inquiries came as a blow to the government, which was seeking to overturn a High Court judgement made in 2000 which stopped an Oireachtas inquiry into the fatal shooting of John Carthy at Abbeylara, County Longford, during a stand-off with Irish police.
A total of 1,785,208 people voted on the amendment with 928,175 voting against and 812,008 voting in favour - a majority of 116,167.
Some 5,000 people who voted on the presidential election decided not to vote on the amendment.