'Suicide bombing' hits Turkish town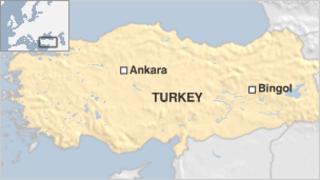 At least two people have been killed by an explosion reportedly caused by a female suicide bomber in a town in south-east Turkey.
The Turkish interior ministry said the attack took place in Bingol.
At least 10 people were injured, one seriously, hospital officials said. It is not clear if the two fatalities include the bomber.
Interior Minister Idris Naim Sahin said the blast happened near the offices of the government's AK Party.
But he said he did not believe the building was the intended target.
No group has admitted carrying out the attack.
However, Turkey has been battling a long-running insurgency with Kurdish rebels in the south-east.
The fighting has killed tens of thousands of people since 1984.
The blast comes as the Turkish government tries to help thousands of people left homeless by a powerful earthquake in Van, a largely Kurdish province.