Sarajevo gunman fires at US embassy in Bosnia capital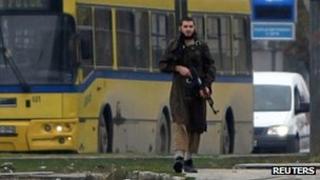 A gunman has fired shots at the US embassy in the Bosnian capital Sarajevo, wounding at least one policeman guarding the building.
After a 30-minute standoff in the city centre, a police sniper wounded the man and he was arrested.
Bakir Izetbegovic, one of Bosnia's three presidents, condemned the shooting as a terrorist attack.
Photographs from the scene showed a bearded man walking down the street carrying an assault rifle.
Bosnian TV reports identified him as Mevlid Jasarevic, a 23-year-old Serbian citizen from Novi Pazar, a town in Serbia with a large Muslim community.
Reports said he was a member of the Islamic fundamentalist Wahhabi sect.
A hospital spokesman said he had a leg wound which was not life-threatening, and would be out of hospital soon.
'Gunman rode tram'
"I firmly condemn the terrorist attack on the US embassy in Bosnia-Hercegovina," said President Izetbegovic.
"The American government and people have supported us in the most difficult moments of our history, and nobody has the right to endanger the friendly relations between our two countries," he said in a statement.
Bosnia's bitter 1992-95 conflict between Muslims, Serbs and Croats ended with the US-brokered Dayton accord.
Sarajevo Mayor Alija Behmen said the gunman had arrived outside the US embassy on a tram and started shooting.
Police were investigating whether the man had acted alone or had accomplices, said Zeljko Komsic, the chairman of Bosnia's presidency.
The US embassy said the building was locked down when the shooting started and no one inside had been injured.