Irish presidential election: candidates cast their votes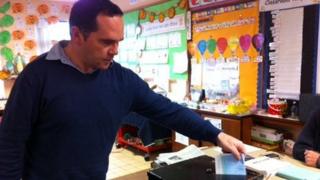 All but one of the candidates in the Irish presidential election have cast their vote in the poll to choose the country's ninth head of state.
They are among thousands of people who will be voting across the 26 counties of the Irish Republic.
The only candidate who has not voted is Martin McGuinness who is ineligible because he lives in Northern Ireland.
Earlier, the outgoing president Mary McAleese, filled in her ballot paper at St Mary's Hospital in Phoenix Park.
Polling stations in 43 constituencies opened at 07:00 BST on Thursday and will close at 22:00 BST.
The seven candidates are Fine Gael's Gay Mitchell, Michael D Higgins of the Labour Party, Sinn Fein's Martin McGuinness as well as independents Sean Gallagher, Dana Rosemary Scallon, Mary Davis and David Norris.
The campaign for the presidency has been beset by controversy with several of the seven candidates facing some controversy about their past careers.
Gruelling campaign
BBC Northern Ireland's Dublin reporter Jennifer O'Leary said the turnout was 10% at lunchtime on Thursday and about 21% by 16:00 BST.
She said the overall turnout for the last presidential election in 1997 was 48% compared to 70% for the general election in February.
"It's been a fairly gruelling campaign for the seven candidates and, it has to be said, for the public too," our reporter added.
"We'll know this evening whether the public have engaged with the debate in so far as actually voting in this election."
The president, who serves as head of state, is elected for a seven-year term and can be re-elected only once.
The election comes as the country continues its bid to recover from the worst recession in living memory.
Counting will begin at about 09:00 BST on Friday with the announcement of the winner due at the weekend.