Chechens shot in Turkey linked to Moscow bomb inquiry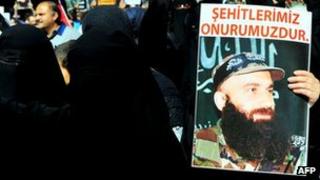 Russian prosecutors have confirmed two Chechens shot dead in Turkey last month were being linked to the bombing of Moscow's busiest airport in January.
They said they were investigating the deaths of Zaurbek Amriyev and Rustam Altemirov as part of their inquiry into the bombing, which killed 37 people.
Both were reportedly shot with a pistol fitted with a silencer, along with a third Chechen, Berg-Khazh Musayev.
Russian security services declined to comment on the shootings.
Islamist militants in the North Caucasus have been waging war on the Russian state for years, with attacks intensifying since the last Chechen war, which ended in 2009.
Russia has been accused of assassinating several Chechen rebel figures abroad, including a former acting leader, Zelimkhan Yandarbiyev, in Qatar in 2004.
Wanted list
Turkish media speculated that the three men had been killed by a Russian assassin.
According to one Turkish newspaper, Sabah, police raided the hotel room of the suspected killer but he had slipped away shortly before their arrival, leaving behind night-vision equipment, a mask and a gun equipped with a silencer.
Police refused to comment on the report.
On Wednesday, Russian federal prosecutors released a statement, confirming only that Amriyev and Altemirov were on an international wanted list in relation to the Domodedovo bombing.
They did not mention Musayev, whom Chechen rebel sources have linked to Chechen Islamist militant leader Doku Umarov, Russia's most wanted man.
On 24 January, a suicide bomber attacked the arrivals hall of Domodedovo, killing 37 people and wounding more than 100.
Russian investigators later identified the bomber as Magomed Yevloyev, a resident of Ingushetia, which has close ties to Chechnya.