Over 100 developers paid salary by Republic's 'bad bank'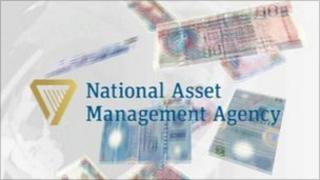 The Irish government's National Asset Management Agency (Nama) has revealed that it is paying two developers a salary of 200,000 euros a year.
Nama was set up by the Irish government to save the country's ailing banks by buying and managing property loans made by those banks.
The Republic's Public Accounts Committee heard on Wednesday that over 100 developers are being paid a salary
Nama described the payments as "hard-nosed commercial decisions".
It said the developers had the best expertise to manage the portfolio and get a return for Nama.
The agency said the developers getting 200,000 euros a year are "managing multi-billion euro portfolios".
As a comparison they said receivers, who would "not be as clued-in" to the portfolio, would have to be paid 180 euros an hour.
Nama said it would prefer the highly indebted developers to manage the portfolios for nothing but that was not realistic.
The agency is sometimes referred to as a "bad bank" but it takes over "good" loans, which are being repaid, as well as bad loans.
Nama has taken over around 70bn euros of property loans, of which £3.5bn relate to Northern Ireland.