Hugh Morgan says he gave Sean Gallagher Fianna Fail donation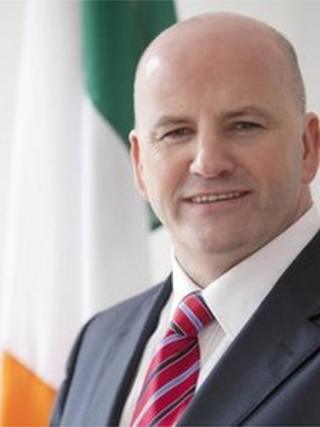 A businessman has said that he handed over a cheque for 5,000 euros for Fianna Fail to Irish presidential candidate Sean Gallagher in June 2008.
Mr Gallagher, an independent, came under pressure over the issue during Monday night's final television debate.
On Tuesday afternoon Hugh Morgan said Mr Gallagher had called to his business premises in County Armagh in July 2008 to collect the cheque.
Earlier, Mr Gallagher accused Sinn Fein of a "dirty tricks" campaign.
The issue was raised during the debate by Sinn Fein's Martin McGuinness.
He told RTE's Frontline programme: "This gentleman told me there was between 30 and 35 people in the room. He also told me that after the event that Sean called around to his house and took a cheque for 5,000 euros."
Mr Gallagher initially claimed he had no recollection of receiving a cheque for 5,000 euros from Mr Morgan in Dundalk, County Louth, two years ago.
However, he later conceded an envelope may have been handed over.
He said it was a legitimate fundraiser for a legitimate political party he was involved with at the time.
On Tuesday afternoon, Mr Morgan said he wanted to "set the record straight" over his attendance at the Fianna Fail fundraiser on 1 July 2008.
"Sean Gallagher, who I had never met previous to this, contacted me by phone," he said.
"He first phoned me on 6 June 2008 and invited me to attend the above fundraiser. In the course of the call he requested a donation of 5,000 euros for Fianna Fail.
"In return for the 5,000 euros donation I was promised a private audience with the taoiseach and I would get a photograph taken with him."
He added: "Brian Cowen gave a speech on the economy and predicted a soft landing. At the end of the night Sean Gallagher introduced me to Brian Cowen and facilitated a photograph to be taken of myself and him.
"Approximately one week later Sean Gallagher called back to my business and gave me the photograph."
In response, Mr Gallagher issued a statement saying: "The content of Mr Morgan's statement this evening is completely at odds with what he allegedly told Martin McGuinness two hours before the Frontline debate.
"Sinn Fein and Mr Morgan have had so many versions of this fabricated story."
Fianna Fail said they had received the donation the day before the dinner with Mr Cowen took place.
Mr Morgan, who owns Morgans Fuels, was convicted of smuggling fuel in June 1998.
He said he had since repaid the Exchequer and paid a substantial fine and had gone on to develop a successful international business.
In February, the Irish Daily Mail reported that Mr Morgan had rented an office to Sinn Fein leader Gerry Adams during his campaign to become a Louth TD.
Family speak out
Meanwhile, a daughter of Jean McConville has criticised the participation of Mr McGuinness in the presidential election.
Mother of 10 Mrs McConville was abducted by the IRA in Belfast in 1972, shot dead and secretly buried.
Her body was found in 2003 by a passer-by on a County Louth beach.
Her daughter Helen McKendry said: "I don't think Martin McGuinness should be standing. He should be telling the truth to victims' families, the whole truth."
As well as Mr McGuinness and Mr Gallagher, the other five candidates in the election are Fine Gael's Gay Mitchell, Labour's Michael D Higgins and independents Mary Davis, David Norris and Dana Rosemary Scallon.