Is Berlusconi being sacrificed?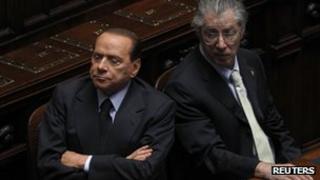 Is the Italian Prime Minister being sacrificed on the altar of finding a deal to fix the euro-zone crisis?
As the deadline for fixing the euro-zone summit approaches, more and more attention is focusing on Italy.
Quite simply, unless Italy can be protected, no agreement will convince the markets.
The muscling of Italy has intensified because Europe's leaders have struggled to increase the firepower of their main rescue fund - the EFSF.
It is likely that on Wednesday they will announce that the fund has been leveraged up to one trillion euros.
Italy's debt stands at 1.8tn euros. It needs to issue some 600bn euros in bonds in the next three years to refinance maturing debt.
Ganging up
So President Sarkozy and Chancellor Merkel ganged up against the Italian leader Silvio Berlusconi at the weekend.
They told him in no uncertain terms that he had to get his public finances in order.
They want further spending cuts, pension reform, and changes that will boost growth in the long run.
The Italian leader was told he had to deliver a letter by Wednesday setting out his plans to rein in spending.
The letter must list concrete steps and come with a timetable. Mr Berlusconi was told he had to bring the letter to Brussels.
Injured pride
Silvio Berlusconi was furious.
"Nobody in the union," he wrote in a letter, "can appoint themselves administrators and speak in the name of elected governments and the peoples of Europe...
"No-one is in a position to give lessons to their partners."
It did not help injured Italian pride when Chancellor Merkel and President Sarkozy were asked on Sunday whether they were reassured having met Mr Berlusconi.
They smirked and exchanged ironic smiles. Italians - even those opposed to the Italian prime minister - were insulted.
The Italian president said the smirks were "inappropriate and unpleasant".
Others suspect that France and Germany are trying to engineer Mr Berlusconi's departure and have him replaced by a figure who will carry out reforms and so calm the markets.
Their demands threaten Mr Berlusconi's fragile coalition.
The pension reform could raise the retirement age to 67. Umberto Bossi from the Northern League - and Berlusconi's key coalition partner - said: "To retire at 67 years, to cancel old age pension, all of that is not possible... we cannot make the retirement age 67 years. People will kill us."
Mr Bossi won't budge and made it clear that the demands put Mr Berlusconi's government at risk.
Direct conflict
James Walston, a political analyst in Rome, said: "We are in completely uncharted waters.
"It has been clear for decades, of course, that there is tension between sovereign states and the European Union," he said.
"But this is the first time that there has been a direct conflict, tension, between a single leader of a EU country, and a big EU country, and the institutions.
"This is institutionally very new as well as being in the middle of a major crisis," Mr Walston said.
Bullying denial
All of this forced an EU spokesman Amadeu Altafaj to deny that Italy was being bullied.
"You mentioned the word demands, requirements, humiliation. No there's no humiliation involved," he said.
Leaving aside Italy, Europe's leaders are struggling to come up with hard figures.
It still has not been settled how big are the losses the banks should accept over Greek debt.
The size of the EU's main bail-out fund will be difficult to quantify due to the complexity of the two main schemes.