U2 are voted best band of Q magazine's lifetime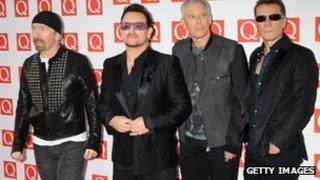 U2 have been voted the best band of Q magazine's lifetime at an awards ceremony in London.
The monthly music publication is currently celebrating its 25th anniversary.
It was created a year after U2 and Queen entertained millions during the legendary charity concert, Live Aid, at Wembley.
As lead singer Bono collected the Irish group's latest gong, he sang a lyric from Queen's 'We Are The Champions' to signify their latest achievement.
"We'll keep on fighting to the end," Bono said.
"It is a very big compliment to realise that we are the only band left in 25 years because of all the fighting, with a couple of exceptions.
"Depeche Mode are an extraordinarily gifted band and of course if The Clash were up here we would be carrying their gear."
U2 guitarist, The Edge, also gave his unique reaction to the band's award.
"It is 30 years of U2 and 25 years of Q, people go to jail for murder for less," he added.
"They didn't introduce divorce in Ireland until 1996, a little too late for us."
Adele won best female artist and best track at the awards ceremony.
Other prizes went to rapper Tinie Tempah, who was named best male artist and Coldplay, who picked up best act in the world today.
The best album award was given to US singer Bon Iver for his self-titled second record.
Queen were entered into Q's Hall Of Fame and Siouxsie Sioux was recognised for her outstanding contribution to music.