Badminton fosters success, says Dmitry Medvedev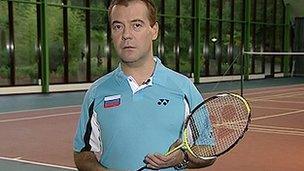 Russia President Dmitry Medvedev has used a video blog to promote badminton, describing it as a game for those seeking success.
Dressed in a tight sports top and clutching a racquet, Mr Medvedev called on schoolchildren to take up the sport.
Badminton players, he says, "can make quick decisions, which means they have the will to achieve success".
The clip then shows Mr Medvedev battling it out on the court with Prime Minister Vladimir Putin.
The video was praised by the country's badminton association, but ridiculed by some commentators.
"Don't you think that the president of a country should work on more global tasks than deciding the content of school PE lessons?" one commentator, Dmitry Yermolayev, wrote on Mr Medvedev's blog.
Mr Putin, the former president who is expected to return to the post next year, has nurtured a more action-man image, with pictures of him practising judo, fishing or skiing appearing regularly in the media.
Former President Boris Yeltsin, meanwhile, was known for his love of tennis.
Related Internet Links
The BBC is not responsible for the content of external sites.