Obstacles old and new in Kosovo as Serbs defy Nato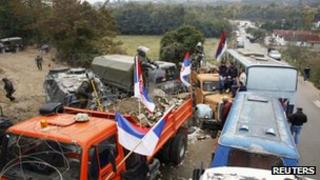 Roadblocks, tear gas, Nato armoured personnel carriers: tension has flared once again in the old flashpoint of northern Kosovo.
For weeks, ethnic Serbs, who form the majority in the area, have manned makeshift barricades: mounds of sand, wood and lines of vehicles.
These block off roads and bridges to the Albanian-dominated south and prevent access to Kosovo's disputed northern border with Serbia.
Nato has issued repeated warnings to clear the roadblocks or have them dismantled by force.
But the calls have fallen on deaf ears, leading to minor scuffles between the two sides last week, when Nato used tear gas to disperse hundreds of Serbs.
Most of the 16 barricades are still in place. Kosovo has been in effect cut in two and a sense of crisis is growing.
So what has caused this latest stand-off?
Trade embargo
It was sparked in July, when the Kosovan government in the capital, Pristina, sent its police forces north to take control of the border with Serbia.
Belgrade had slapped a trade embargo on goods bearing the Kosovo customs stamp after Kosovo's ethnic Albanian majority unilaterally declared independence from Serbia in 2008 - an act that Serbia still rejects.
This summer, Pristina announced an equivalent ban on Serbian goods, deciding its officials would enforce the embargo on the border.
But the writ of the Kosovan government has never extended to the north: Serbian-run institutions are still in place there and the Serbian flag flies high.
It has become a hub of organised crime amid the power vacuum.
Local Serbs, fiercely opposed to what they saw as a unilateral act by Pristina, clashed with Kosovan police and one officer was killed.
Serbs set fire to a border crossing, sending plumes of smoke billowing into the surrounding hills.
Roadblocks started appearing: there was a sense that Serbs were fencing themselves off, retreating into their territory and that the de facto partition that has long existed in Kosovo was becoming ever more entrenched.
"We want to be part of Serbia - nothing more, nothing less", says Dragisa Milovic, the Serb mayor of the northern Kosovan municipality of Zvecan.
"If the international community gave Albanians their own country, why should they not listen to us? It is the reality - this area is still Serbia."
The Kosovan government, keen to avoid fanning the flames, has refrained from getting involved in the roadblock stalemate, only voicing support for Nato's actions.
"We will not step back in our legitimate efforts to control all of our territory," Kosovo's Interior Minister Bajram Rexhepi told me on my last trip there. "The reality is that we are an independent state, whatever Serbs say."
'Unimpeded access'
Meetings between Serbs and Nato senior officers have failed to break the deadlock.
Nato has demanded unimpeded access but the Serbs want assurances that no officials from the Kosovan government will be placed on the border.
And so Serb mayors from the north came to Belgrade on Sunday for a meeting with Serbia's President Boris Tadic: a last-ditched attempt to get backing from what they still see as their own government.
But there were no firm results. Belgrade is attempting a difficult - perhaps impossible - balancing act on the Kosovo issue.
The European Union says Serbia must show a more constructive approach to Kosovo if it is to get EU candidate status in December: a significant step towards the goal of eventual membership.
But Kosovo is also used by nationalists here as an election issue, and with President Tadic trailing in the opinion polls before an election next spring, he is trying not to play into the hands of right-wing opposition.
"This crisis has shown a defeat of Tadic's politics," said Bosko Jaksic, foreign editor of the Politika daily.
"It has shown that Serbs in northern Kosovo are now controlled by the nationalists, no longer by Tadic. But he has been tolerating them while in office and it's now time to pay the price," he said.
"The only way to solve this is for him to show some courage and tell Serbs what the reality in Kosovo really is."
But beyond the current crisis, how to finally resolve the northern Kosovo issue?
Pressure for concessions
The idea of a de jure partition is often discussed, but Western governments have said they would block it, for fear of encouraging ethnically based partition elsewhere in the Balkans.
"The solution is some kind of far greater autonomy for the Serbs in northern Kosovo," says Bosko Jaksic. "It would give Serbs more rights. But it would also force Pristina to make concessions."
The Kosovan government has previously ruled out the option, but it is widely believed that, under pressure from the EU and the US, it would relent.
Stability in the north would, after all, help Kosovo gain wider recognition: only 80 or so countries currently recognise its independence.
And so, in the mountainous villages of northern Kosovo, the barricades remain and tension continues to build.
It is, for now, a non-violent confrontation. But in this still-volatile area, there is always the fear that one wrong turn may spark something more serious.
Patience is running out from all sides to break this current impasse and find a longer, more sustainable solution to one of Europe's most intractable problems.