Abducted doctor Krombach jailed for stepdaughter death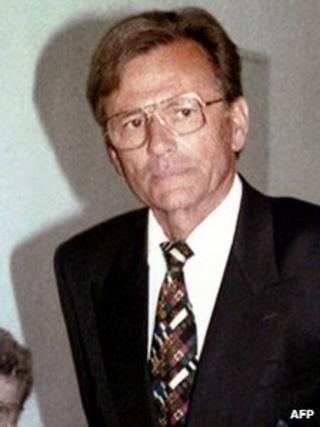 A French court has sentenced a retired German doctor to 15 years in prison for unintentionally killing his 14-year-old stepdaughter Kalinka nearly 30 years ago in Germany.
Dieter Krombach, 76, was cleared by a German court of killing the girl.
But he was later convicted in France in 1995 in his absence.
In 2009, he was abducted and left near a French court with a head injury. The girl's biological father, Andre Bamberski, is accused of his kidnap.
Long campaign
Kalinka Bamberski died in July 1982 in Lindau in Bavaria where she had been spending her summer holiday with her mother and stepfather.
According to Krombach, a cardiologist, he had given her an iron injection, apparently to help improve her suntan.
The case has divided French and German investigators.
German prosecutors dropped the case against him, deciding the death was accidental.
But, after Kalinka's body was exhumed and a post mortem examination carried out, a French court convicted him in his absence of manslaughter.
Six years later, the European Court of Human Rights ruled that the cardiologist had been denied a fair hearing and the right to an appeal.
In the latest trial in Paris, Krombach was found guilty of drugging his stepdaughter and causing her to die of suffocation.
The court said he was guilty of "wilful violence leading to death without intent".
Mr Bamberski welcomed the verdict, saying :"Of course my first thought is for Kalinka. What I promised her, what I wanted was a complete and fair trial. Now that goal has been reached.
"Justice has been done in her memory and I will be able to mourn for her."
In a final plea, Krombach said: "I never hurt Kalinka."
Yves Levano, an attorney for Krombach, said an appeal against what he called this "unacceptable" decision would be filed immediately.
Krombach's conviction marks the culmination of a long campaign for justice by Mr Bamberski, who says the former doctor gave Kalinka a dangerous injection so he could rape her.
Krombach has a previous conviction in Germany, from 1997 - for drugging and raping a 16-year-old girl.
Mr Bamberski, convinced of Krombach's guilt, has pursued him ever since his daughter's death.
In October 2009, Krombach was found, his head bleeding and his hands and feet bound, outside the prosecutor's office in Mulhouse, close to the German border.
Mr Bamberski has since been accused of the abduction.
"Many people, my father in particular, have always told me to drop the case and live normally. But personally, if I had dropped it, I don't think I could have lived a normal life," he told the France Info radio station.
Mr Bamberski, a retired accountant aged 73, told the BBC last year that he had consented to the stepfather's abduction although he had not carried it out himself.
He said the authorities in Germany as well as in France had hoped the case would be "conveniently forgotten".
Correction 25 October, 2011: This story has been amended since it was first published, to mention Krombach's previous conviction