Turkish forces 'kill 49 Kurdish rebels'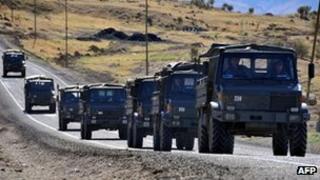 Turkish forces have killed at least 49 Kurdish militants in two days during clashes near the Iraqi border, the country's military says.
The militants are thought to have been killed in the Kazan Valley region of Turkey's Hakkari province. There was no immediate confirmation from rebels.
Turkey launched an offensive against Kurdish PKK rebels on Wednesday after 24 of its troops were killed near Iraq.
It was the deadliest toll against the Turkish military since the 1990s.
The latest violence occurred near the town of Cukurca.
"A total of 49 terrorists were rendered ineffective over the last two days," said Turkey's General Staff in a statement posted on its website on Saturday, adding that the operation was continuing.
More than 30 of the rebels were killed on Saturday, the Hurriyet newspaper's website reported.
Ankara has said 22 battalions, or about 10,000 soldiers, have been taking part in the operation against the rebels.
In recent months, violence between the army and Kurdish rebels from the PKK (Kurdistan Workers' Party) has mounted.
PKK guerrillas are seeking greater autonomy in Turkey's Kurdish-dominated south-east.
Tens of thousands of people have died in the conflict since 1984.
On Friday, Turkey and Iran vowed to co-operate to defeat separatist Kurdish militants.
The Kurdish militants posed a "common problem" for Turkey and Iran, Iranian Foreign Minister Ali Akbar Salehi said on an unscheduled trip to Ankara.
Turkey vowed jointly to "totally eliminate" the "terrorist threat".