Turkey and Iran 'collaborating against Kurdish rebels'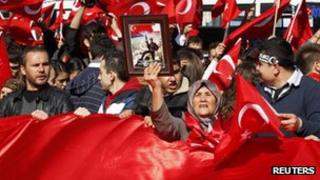 Turkey and Iran have vowed to co-operate to defeat separatist Kurdish militants, on the third day of a Turkish offensive on its Iraq border.
The Kurdish militants posed a "common problem" for Turkey and Iran, Iranian Foreign Minister Ali Akbar Salehi said on an unscheduled trip to Ankara.
Turkey vowed jointly to "totally eliminate" the "terrorist threat".
Turkey's latest offensive was triggered by rebel attacks which killed 24 Turkish soldiers on Tuesday.
Turkish warplanes and helicopter gunships flew bombing sorties against the main base of Kurdistan Workers' Party (PKK) rebels in Iraq, the Qandil Mountain on the Iraq-Iran border, local media reports said.
Hundreds of Turkish soldiers - said to include commandos and special forces - were hunting PKK fighters around the Zap river a few kilometres inside Iraqi territory, Reuters news agency quoted Turkish security officials as saying.
Local media reported bombing sorties in the same area.
But the Turkish military said most of the operations being undertaken by its 10,000-strong force were confined to the Turkish side of the border, in its Kurdish-dominated south-east - including in Cukurca, one of the sites of Tuesday's bloody rebel raids on Turkish soldiers.
"The air and ground offensives mostly concentrate within Turkey and in the Cukurca area, while air and ground operations are under way in a few areas across the border in northern Iraq," the military said in a statement Friday.
Journalists in Cukurka reported only military aircraft overhead and, overnight, the sound of gunshots.
Tuesday's attacks, in Hakkari province, are thought to have inflicted the biggest loss on Turkish forces since 1993 and President Abdullah Gul has vowed to avenge them.
They were another ratcheting-up of a conflict in which tens of thousands of people have died since 1984.
'Joint struggle'
Mr Salehi told reporters in Ankara that the PKK and its Iranian offshoot, the Party of Free Life of Kurdistan (PJAK) were "common problems for Turkey and Iran".
"Our determination continues, we should fight them with a more serious co-ordination," Mr Salehi said.
His Turkish counterpart, Ahmet Davutoglu, said the two countries' "joint determination to struggle against the PKK and the PJAK will continue in the strongest way".
"From now on, we will work together in a joint action plan until this terrorist threat is totally eliminated."
It was not immediately clear what measures the two countries would take - and observers say the window for action is shrinking as winter looms and snow begins to fall in the border zone.
In the past, Iran has shelled targets in the Qandil Mountain and reports suggest Tehran has been carrying out a major offensive against PJAK since July.
Analysts say Turkey's decision to host a radar system for a Nato missile defence shield soured relations with Iran.
Risks of action
Analysts also point out that previous Turkish efforts to take on Kurdish rebels militarily have had short-lived results. Turkey launched a major ground offensive in northern Iraq in 2008, but PKK fighters were able to regroup and continue to stage attacks.
They also suggest such military campaigns risk destabilising the region, with US troops due to depart from Iraq later in the year and neighbouring Syria struggling to suppress a pro-democracy movement within its own borders.
But Turkish leaders have been under pressure from many ordinary Turks to respond to Tuesday's attacks, with the normally measured President Ali Abdullah Gul vowing to exact "great revenge" for the bloodshed.
Tens of thousands of people, including school students, took to the streets in Turkey on Tuesday demanding action against the rebels.
Many have male relatives serving in Turkey's conscript army.