Carla Bruni and Nicolas Sarkozy have baby girl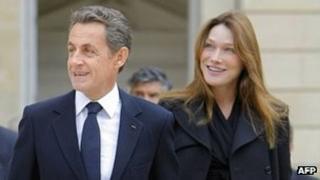 Carla Bruni, wife of French President Nicolas Sarkozy, has given birth to a girl at a Paris clinic where crowds had gathered, local media say.
Witnesses said Mr Sarkozy arrived at the La Muette clinic several hours after the birth.
He had visited the clinic earlier in the day, but left to travel to Germany for talks on the eurozone debt crisis.
The Elysee Palace has said it will not make any announcement because the pregnancy is a private family matter.
Mrs Bruni-Sarkozy has a son from a previous relationship, and Mr Sarkozy has three sons from earlier marriages.
French media outlet Europe 1 said the girl was born at 20:00 (18:00 GMT) but gave no more details.
French news agency AFP said a member of the first lady's inner circle confirmed the birth, but added that no name had been made public.
'Adult choice'
Italian-born Mrs Bruni-Sarkozy, the only serving French first lady to have given birth, has maintained a low profile while pregnant, appearing only rarely in public.
She told Le Parisien newspaper earlier that she would never make photographs of the child public because "exposure to public life is an adult choice".
She also insisted that the French public had little interest in the pregnancy, and that she was "in a hurry to get it over with".
Witnesses outside the clinic said a security cordon had been set up, with crowds and journalists moved 100m away from the entrance.
There were reports that people visiting other women giving birth had been searched by police before being allowed to enter.
Mr Sarkozy arrived at the clinic on Wednesday afternoon but left shortly afterwards.
The Elysee Palace said he was travelling to Frankfurt for talks with German Chancellor Angela Merkel, IMF director Christine Lagarde, outgoing European Central Bank chief Jean-Claude Trichet and other key officials.
The leaders were due to hold "informal talks" on the eurozone debt crisis ahead of an EU summit in Brussels on Sunday.
Mr Sarkozy married Carla Bruni in 2008, becoming the first French leader to divorce and remarry while in office.