Turkish troops pursue Kurdish rebels into Iraq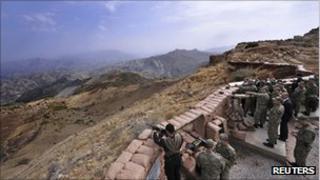 Turkish troops backed by fighter jets and helicopter gunships have pursued Kurdish rebels into Iraq.
It follows overnight attacks on military installations in Hakkari province, near the Iraqi border, which killed at least 24 Turkish soldiers.
The attacks are thought to have inflicted the biggest loss on Turkish forces since 1993 and President Abdullah Gul has vowed to avenge them.
In recent months, violence between the army and Kurdish rebels has mounted.
The attacks come a day after a blast in the south-east Bitlis province killed five police officers and three others.
Dozens of members of the country's security forces, and at least 17 civilians, have been killed since mid-July.
Turkey has responded with a police crackdown on suspected rebel sympathisers and air strikes on Kurdish sites in northern Iraq. Scores of insurgents have died.
Guerrillas from the Kurdistan Workers' Party, the PKK, are seeking greater autonomy in the country's Kurdish-dominated south-east.
Tens of thousands of people have died in the conflict since 1984.
'Hot pursuit'
The latest violence - thought to be at least two simultaneous ambushes - took place in Cukurca and the district of Yuksekova overnight.
Prime Minister Recep Tayyip Erdogan said 24 soldiers were killed and 18 injured, revising an earlier figure of 26 dead.
He said the army had launched "hot pursuit" operations. Security sources and Turkish media said commandos crossed the border by helicopter, and had gone several miles into Iraq.
Turkish planes were also reported to be bombing PKK bases in northern Iraq.
A spokesman for the PKK, Dostdar Hamo, confirmed that clashes had been taking place in two areas since 03:00 (01:00 GMT), the Associated Press news agency reported.
"No-one should forget that those who make us suffer this pain will be made to suffer even stronger," President Gul told reporters. "They will see that the vengeance for these attacks will be great."
According to some reports, 15-20 militants were killed in clashes with Turkish forces.
The prime minister and foreign minister cancelled overseas trips in response to the bloodshed, while the interior and defence ministers rushed to the border area, reports said.
'No justification'
The US and Nato issued statements in support of the Turkish government.
"As a friend and ally, the United States will continue to stand with the people and government of Turkey in their fight against the PKK, which the United States has officially designated as a terrorist organisation," said Francis Ricciardone, the US ambassador to Turkey.
"No political cause, and no religion, can justify terrorism."
This is the biggest attack in terms of soldiers' loss of life since 1993, says the BBC's Jonathan Head in Istanbul, and the public pressure to respond is intense.
Turkey's army is a conscript one and many families will have sent sons to serve.
The Turkish parliament has recently renewed the law that gives Turkish forces carte blanche to pursue rebels over the border, our correspondent says.
The question is how long it can retain the support of the Iraqi and regional Kurdish governments, particularly as civilians inside Iraq have been killed in some recent operations, he says.
The move also kills any chance of political moves towards reconciliation, he adds.