L'Oreal heiress Bettencourt under family guardianship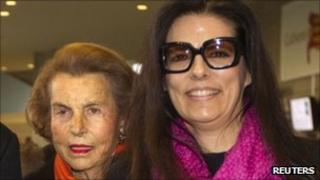 L'Oreal heiress Liliane Bettencourt, 88, is to be placed under the guardianship of members of her family.
A French judge made the ruling based on concerns about Mrs Bettencourt's declining mental health.
The family are reportedly concerned about her health and management of her fortune, estimated at 16bn euros (£13bn: $20bn) by Forbes magazine.
Mrs Bettencourt's lawyer said the decision was "profoundly disappointing".
Jean-Rene Farthouat said he would appeal against the court's ruling, which will remain in place pending the appeals process.
Liliane Bettencourt is estranged from her daughter, Francoise Bettencourt-Meyers, who, along with two grandsons, will now control her wealth and property.
Another grandson was named as her personal guardian.
The BBC's Hugh Schofield in Paris says it is a big victory for Mrs Bettencourt-Meyers, who has long said her mother was squandering her money under the influence of flatterers and favour-seekers.
Mrs Bettencourt is on L'Oreal's board of directors, but the court's decision is expected to have little impact on the running of the cosmetics giant.
Public feud
The Bettencourt mother and daughter have been at the centre of a very public feud over the fate of France's third-largest family fortune.
Mrs Bettencourt-Meyers has argued that her mother is mentally unfit to manage her wealth.
The row initially centred on celebrity photographer Francois-Marie Banier who is believed to have received about 1bn euros worth of gifts from Mrs Bettencourt over a 20-year period.
A legal case against him was eventually dropped, but not before other allegations had surfaced about how Mrs Bettencourt's money was possibly being lavished on politicians.
There were even claims of illegal donations to President Nicolas Sarkozy's 2007 election campaign. That is still under investigation.
Last December Mrs Bettencourt and her daughter announced they had been reconciled, ending a series of lawsuits.
However, the spat reignited over the summer when Mrs Bettencourt said her daughter needed to seek psychological help.
On Monday, the website of Le Monde newspaper quoted a medical report prepared for the court as saying that Mrs Bettencourt was suffering from "mixed dementia" and "moderately severe" Alzheimer's disease.
In an interview published in the Journal du Dimanche on Sunday, Liliane Bettencourt threatened to leave France if her daughter succeeded in having her placed under her guardianship.
"If it's that, I will go abroad. If my daughter looks after me I would feel stifled. If it's her, I will leave," she said.
Her lawyer told the same newspaper that Mrs Bettencourt was ready for "nuclear war" with her daughter.