Dream start for French Socialist hopeful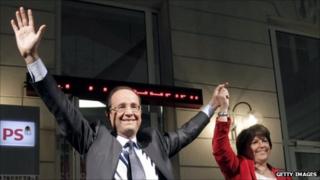 Francois Hollande has got off to a dream start in his bid to unseat Nicolas Sarkozy next April.
First of all, the whole organisation of the Socialist primaries has been an unqualified success.
Three million French people took part in the two rounds of voting to choose the presidential candidate. Nearly 80% of the public now say the primary - the first ever in France - was a good thing, and even the ruling UMP is wondering whether to hold one in 2017.
The primary has also meant the Socialists have dominated the media for the last month - much to the annoyance of President Sarkozy.
They have been able to portray themselves as modern, democratic -and in touch with the people.
Doubters on the right, who said the primary was a ruse to get round the awkward fact that the Socialists have no natural leader, have been simply ignored.
Unity watchword
But there's more than that.
All the Socialist candidates played the game with courtesy and mutual respect.
For years the image of the party has been wrecked by the internal jealousies and ideological divisions that became its hallmark.
Now it is as if the sheer desperation for power after so long in the wilderness has forced them to close ranks.
Even though the party still harbours widely varying political views - from centrist liberals to anti-globalisers via a tax-and-spend mainstream - there is a consensus that unity must be the watchword.
Returning to 'normal'
And so Francois Hollande - with the endorsement of all four of the first round losers and an emphatic 56% win over Martine Aubry - got the best of all possible starts.
As he said in his acceptance speech: "I have received an urgent mandate … to bring the left back to power."
But of course, the real battle has not even begun - and in the months ahead Francois Hollande will have his mettle tested like never before.
Mr Hollande enters the race with some distinct advantages.
He is a well-liked person - even among his political enemies on the right. He has a sense of humour and a genial personality that the public responds well to.
All this allows him to build up the argument that he will be a "normal" president - after the "abnormal" years of Nicolas Sarkozy.
The unpopularity of the incumbent is of course another huge bonus.
The personality of President Sarkozy has never especially appealed to the French - even if the tales of his lucre-loving "bling-bling" lifestyle have been grotesquely exaggerated over the years. Put bluntly, they wouldn't be sorry to see him go.
But above all it is the general sense of gloom hanging over the country that should be a cast-iron vote-winner for the opposition - especially a left-wing opposition which for years has levelled its guns at the excesses of free-market liberalism.
With all that going for him, it is no wonder the latest poll put Hollande beating Sarkozy by 60% to 40%.
Inexperienced
The trouble is that everyone knows it won't be so simple.
Apparently Nicolas Sarkozy likes to compare Francois Hollande to a lump of sugar. It looks hard and solid on the outside. But put it in a glass of water, and it dissolves to nothing.
Over the next few months, Mr Hollande's enemies are going to pump out the same argument until it is ringing in our ears: he has no experience and he has no substance.
There is not much Mr Hollande can do about his lack of experience, except to remind everyone that Barack Obama had never served in national government either.
But the fact remains: Francois Hollande has spent his life as a party apparatchik and local MP. Although he has always moved in the top Socialist circles, he has never once served as a minister, even a junior one.
As for the second accusation, look at this line from one of Hollande's erstwhile Socialist colleagues (albeit nowadays something of a maverick) ex-minister Claude Allegre:
"Francois Hollande is a a very intelligent man, very subtle, likeable, with a great sense of humour. But his political behaviour has always been built on opportunism and popularity-seeking arrangements."
Magisterial contortions
Similar thoughts are aired sotto voce by others in the Socialist Party.
Francois is a great rassembleur, they say. He will rally everyone together. But no-one is quite sure what he stands for.
And defining his position over the next months is going to require political skills - not to say contortions - of a magisterial nature.
For not only does Francois Hollande have to defend a Socialist programme that includes promises to reverse the raising of the retirement age, and the creation of 300,000 public sector youth jobs.
He also has to convince centre and right-leaning voters that he can take tough budgetary decisions to bring down France's deficit.
As 2011 draws to a close, it is abundantly clear that the epoch Europe is about to enter will be fraught, painful - and unlike anything that has gone before.
Will the French be willing to entrust their futures to an untried Socialist of uncertain beliefs whose party is still wedded to old-style tax-and-spend?