BNP banned from Trinity immigration debate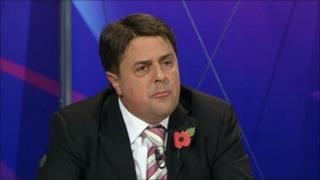 Trinity College in Dublin has cancelled plans to have British National Party (BNP) leader Nick Griffin join a debate on immigration.
Mr Griffin had been asked to speak at the University Philosophical Society.
A spokeswoman for the university said the invite had now been withdrawn after staff and students objected.
BNP members have also been banned from the city centre grounds for the event.
The philosophical society is known for a diverse mix of guests over the years from rocker Pete Doherty to Nobel Peace Prize winner Archbishop Desmond Tutu.
However, the university said it could not guarantee the safety and well-being of staff and students.
"Access to the college will not be given to Mr Griffin or members of the BNP," added the spokeswoman.
Mr Griffin had been scheduled to attend the debate "This House Believes That Immigration Has Gone Too Far", scheduled to take place on 20 October.
Trinity said it had given the decision to pull the invite careful consideration.