Ukraine's Yulia Tymoshenko faces embezzlement inquiry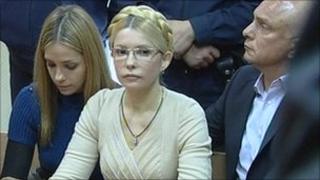 Ukrainian investigators have opened a corruption inquiry into former leader Yulia Tymoshenko, two days after she was jailed for exceeding her powers.
The new case is related to the activities of Tymoshenko's energy company 15 years ago.
It is alleged she illegally transferred more than $400m (£255m) of debt from her firm's books to the state.
Ukraine is facing strong criticism from both the West and Russia over the jailing of Tymoshenko.
She was imprisoned for seven years on Tuesday for acting beyond her powers in sealing a gas deal with Russia in 2009.
'Under the microscope'
Announcing the investigation, security service official Ivan Derevyanko said Tymoshenko was at the time president and de facto owner of the company United Energy Systems of Ukraine.
She obtained a guarantee that the debts would be paid back to the Russian defence ministry by the state, then transferred the money to her own bank card and several Swiss bank accounts, Mr Derevyanko alleged.
The accounts were in the name of Pavlo Lazarenko, another former Ukrainian prime minister who is currently serving a jail sentence for embezzlement and money-laundering in the US.
The case is legally separate from that involving the 2009 gas deal.
The US and EU have criticised the recent trial as being politically motivated. The White House said it raised concerns about Kiev's commitment to democracy and the rule of law.
Russia has also opposed the ruling, saying it had a "clear anti-Russian subtext".
Ukrainian President Viktor Yanukovych said Ukraine had been put "under a microscope" as a result of the trial.
"If this situation had come about in any other country in the world, even the most democratic, no-one would have so much as opened their mouth," he said.