Berlin firebomb alert: New device found on train line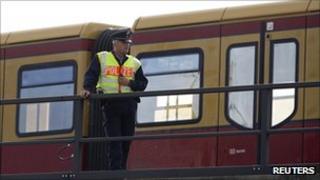 German police have discovered an explosive device on a train line in the Berlin area - the fourth day in a row that devices have been found in and around the German capital.
So far, there have been eight incidents of explosive devices being found.
Police suspect a left-wing group of planting the firebombs, some of them on high-speed railway lines.
There are fears a group modelled on the Red Army Faction of the 1970s has been formed.
The latest discovery of a firebomb was on the high-speed line between Berlin and Leipzig, says the BBC's Steve Evans in Berlin.
Earlier in the week, one ignited on the line to Hamburg, but at a time when no train was passing.
A previously unknown leftist group called the Hekla Reception Committee said on the web that it had planted the devices in protest at the presence of German troops in Afghanistan.
Last November, Berlin's transport system was severely disrupted when signalling cables were set on fire. There have also been arson attacks on expensive cars.
But these latest attacks on high-speed railway lines take the potential damage to a higher level of danger, our correspondent says.
Germany has about 5,000 soldiers deployed in Afghanistan as part of Nato's mission, most of them in the north of the country.