Serbia recommended for EU candidate status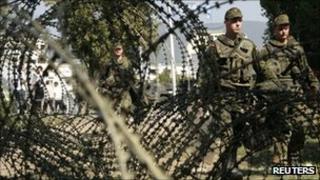 The European Commission has recommended Serbia for EU candidate status but said talks could only start after it normalised ties with Kosovo.
Belgrade refuses to recognise the territory's self-declared independence and tension involving Kosovo's ethnic Serbs sparked violence this summer.
The Commission also recommended opening accession talks with Montenegro.
However, on Turkey, it said accession negotiations had "not moved forward for more than one year".
The Commission was releasing its annual report on countries wishing to join the 27-member European Union.
Its recommendations are expected to be endorsed by the Council of Ministers, the EU's decision-making body, in December.
'Progress needed'
Serbia's hopes of joining the EU were for many years frozen pending the capture of two of the Bosnian war's most high-profile war crimes suspects, Radovan Karadzic and Ratko Mladic.
With the arrest of both in the past two years, Serbia's application can now progress - though Kosovo seems to be another obstacle.
Serbia would "need to achieve further significant progress in improving relations with Kosovo" before negotiations could start, the Commission said.
Kosovo broke away in 1999 following a conflict between its ethnic-Albanian majority and the Serbian authorities, which were forced to withdraw after a Nato bombing campaign.
In 2008, ethnic Albanians declared an independent state, which has been recognised by around 80 countries.
However, a still larger number of states have withheld recognition and Serbia continues to regard Kosovo as part of its territory.
The last round of EU-mediated talks between Serbia and the Kosovo government were called off because of tension in Kosovo's ethnic-Serb north.
Speaking about Turkish accession, EU Enlargement Commissioner Stefan Fuele told the European Parliament that there were "frustrations... on both sides".
Turkey's relations with EU member-state Cyprus are one obstacle, along with opposition to Turkish membership within other EU states, correspondents say.