Saakashvili foe Ivanishvili loses Georgian citizenship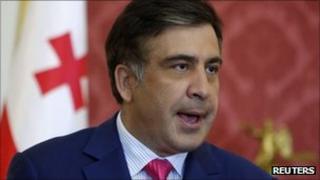 Georgia's authorities have stripped one of the country's richest men, Bidzina Ivanishvili, of his citizenship.
The decision bars the billionaire from forming a political party to contest next year's elections.
The civil registry agency ruled his citizenship had become invalid since he acquired a French passport in 2004.
Correspondents say Mr Ivanishvili's political ambitions were seen as a challenge to Georgia's pro-Western President, Mikheil Saakashvili.
Only Georgian citizens can set up a political party in the former Soviet republic.
Mr Ivanishvili, who was said by Forbes in March to have a net worth of $5.5bn (£3.5bn), also holds Russian citizenship and made his fortune in Russia.
In a statement last week, the reclusive businessman offered to surrender both his French and Russian citizenship in order to run in the 2012 election.
The 55-year-old also publicly offered to sell up his businesses in Russia.
Pavle Kublashvili, an MP from Georgia's ruling party, was quoted by AFP news agency as saying the billionaire served the interests of Russia, which fought Georgia in a war in 2008.
"We must protect Georgian politics from Russian money, from [Russian Prime Minister Vladimir] Putin's money," the MP said.
Mr Ivanishvili accuses Mr Saakashvili of seeking to "stay in power forever", curbing media freedom, cracking down on opponents and creating a "pseudo-opposition" to that end.