German police find explosive devices on Berlin railway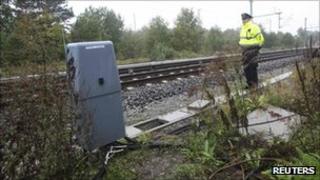 German police have discovered another explosive device designed to derail trains in Berlin - the third in two days.
Two of the devices were found on Monday - one on a high-speed line and another near Berlin's main station.
The third was discovered on Tuesday on the track of a suburban railway line south of the German capital.
A previously unknown left-wing group, calling itself the Hekla Reception Committee, said it planted the devices.
The explosive devices are made of bottles of flammable liquids attached to fuses.
Leftist group
The discovery of the third suspected fire-bomb follows the explosion on Monday of a device on the high-speed line between Hamburg and Berlin, where trains reach speeds of 200km/h.
There were no casualties, but rail traffic was disrupted.
Another device was discovered on Monday before it went off at the mouth of a tunnel leading to Berlin's main station.
It consisted of seven bottles, filled with flammable liquid, bundled together and linked to a fuse.
The leftist Hekla Reception Committee said in an online statement that it had planted the devices in protest at the presence of German troops in Afghanistan.
Police said they were not familiar with Hekla, which is also the name of an Icelandic volcano.
Germany has about 5,000 soldiers deployed in Afghanistan as part of Nato's mission, most of them in the north of the country.
Last November, Berlin's transport system was severely disrupted when signalling cables were set on fire.
There have also been arson attacks on a number of expensive cars in the German capital.
But BBC Berlin correspondent Stephen Evans says these latest attacks on high-speed railway lines take the potential destruction to a new level of danger.