Ratko Mladic treated in hospital 'for pneumonia'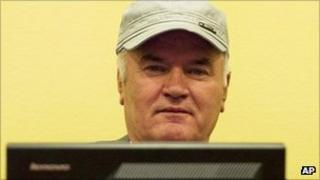 Bosnian Serb war crimes defendant Ratko Mladic is being treated in hospital in The Hague, with reports suggesting he is suffering from pneumonia.
Gen Mladic, 69, appeared to be in good spirits when he appeared at his trial in The Hague last week, saluting a friend in the public gallery.
He is charged with genocide and crimes against humanity.
His lawyer in Serbia's capital Belgrade said his client had responded well to medication and was feeling better.
The press office at the UN war crimes tribunal declined to give details of his condition.
"It has been reported by some media that Mladic has pneumonia," said spokesperson Nerma Jelacic.
"I can confirm that he is currently receiving medical treatment but I am not at liberty to reveal its nature."
Former Yugoslav President Slobodan Milosevic died in 2006 while on trial for genocide and crimes against humanity at The Hague, before any verdict could be reached.
Health troubles
The war crimes suspect spent most of last week's court session detailing his various medical complaints, including pain from a kidney stone.
His family have said he suffered two strokes during the 16 years he spent as a fugitive, before his arrest earlier this year.
The former commander of the Bosnian Serb army has said he is determined to stay alive long enough to be free.
He was extradited to the Netherlands from Serbia on 31 May to face charges over his role during the the 1992-95 Bosnia war.
He is accused over the massacre of about 7,500 people at Srebrenica - Europe's worst atrocity since World War II - as well as the 44-month siege of the Bosnian capital Sarajevo, in which 10,000 people died.
Ms Jelacic denied press reports that Gen Mladic had collapsed last week.
The defendant, she added, was receiving "as any other detainee... the best possible medical care and attention available in the Netherlands".