Germany spyware: Minister calls for probe of state use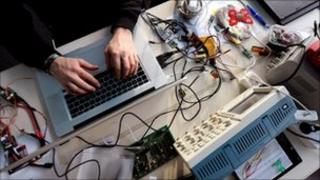 Germany's justice minister has called for a national and state level probe into the use of controversial computer software to spy on people.
The German state of Bavaria has admitted using the spyware, but claimed it had acted within the law.
Three other states have also confirmed they have used spyware in order to investigate serious criminal offences, a German newspaper reports.
Use of the software was exposed by a German hacker group.
The Berlin-based Chaos Computer Club (CCC) said it had analysed a "lawful interception" malware programme called Federal Trojan, used by the German police force.
They found that, once installed, the programme allows its operators to monitor exactly what the user is looking at - from which websites they have visited, to the emails they send and receive and the calls made through Skype.
"The malware cannot only siphon away intimate data but also offers a remote control or backdoor functionality for uploading and executing arbitrary other programs," the group wrote on its website.
The program, it said, had "significant design and implementation flaws", which made "all of the functionality available to anyone on the internet".
Strong feelings
The CCC had analysed a laptop allegedly belonging to a man accused of illegally exporting pharmaceuticals. His lawyer claims the Trojan program was installed on his client's computer when it passed through airport customs.
Bavaria Interior Minister Joachim Herrman has confirmed that state officials have been using the software since 2009 - though he made no mention of any specific incidents - and insisted that they had acted within the law. However, he promised a review of the software's use.
The German broadcaster Deutsche Welle reported on Tuesday that three other states - Baden-Wurttemberg, Brandenburg and Lower Saxony had confirmed using spyware, although it is not clear if all four states had used the same software.
Justice Minister Sabine Leutheusser-Schnarrenberger has called on the federal and state governments to launch an investigation into the matter.
"Trying to play down or trivialise the matter won't do," she said. "The citizen, in both the public and private spheres, must be protected from snooping through strict state control mechanisms."
The BBC's Stephen Evans says the incident has sparked a row because Germans, given the country's Nazi and Communist past, feel strongly about spying on citizens. Germany's constitution stipulates strict protection against it, he adds.