Poland arrests two over bombs at European Ikea stores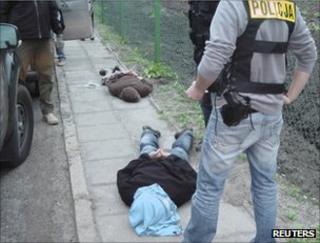 Polish authorities have arrested and charged two suspects over a series of bomb attacks on Ikea furniture stores across five EU states.
The men, named only as Adam K and Mikolaj G, both 39, were arrested over attacks in Belgium, France, the Czech Republic, the Netherlands and Germany.
They are suspected of seeking to extort 6m euros (£5.1m; $8.1m) from Ikea.
Nobody was killed in the attacks, which involved booby-trapped alarm clocks, but two people were injured in Germany.
Polish prosecutor Wieslaw Bilski said it was still unclear how the two detainees would plead. They had, he added, "testified extensively".
Charlotte Lindgren, a spokeswoman for the Swedish furniture giant, was quoted by AFP news agency as saying that Ikea had been informed of the arrests, and had been helping police during the hunt for the bombers.
Hundreds of Polish police officers had worked on the investigation along with counterparts in the countries where the attacks occurred, Polish police said.
'Serious threat'
The attacks, which occurred over five months this year, included incidents when:
booby-trapped alarm clocks blew up at Ikea stores in Belgium, France and the Netherlands on 30 May
a blast in the kitchen equipment department of a store in Dresden, Germany, left two customers needing hospital treatment on 10 June
police evacuated two stores in the Czech Republic, defusing a booby-trapped device found near one of them on 2 September
The suspects were arrested on Wednesday in the Kujawsko Pomorskie region of north-western Poland.
Police spokesman Mariusz Sokolowski said both men had been charged with endangering the lives of many people, extortion and racketeering, and could face up to 10 years in prison.
"Because the bomb loads were getting stronger, there was a serious threat to the life and health of many people," he told Polish media. "Time counted."
According to the police statement, information gathered by Poland's Central Investigations Bureau had established the perpetrators were in Poland, from where they sent payment demands in different languages.
Adam K is described by police as a former manager who has worked for "several big corporations", is fluent in four languages and has "extensive technical and computer skills".
Mikolaj G is identified as having a police record for drug-trafficking.