Greek police seize 'smuggled' ancient treasure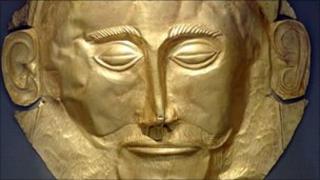 Antiquities including four helmets and gold funerary masks from the 6th Century BC have been seized by Greek police in an anti-smuggling operation.
Two arrests were made during the operation in Thessaloniki, which was hailed as a "great success" by Prime Minister George Papandreou.
Among the 70 items found are pieces of a golden diadem and an iron sword decorated with gold leaf.
Such objects were usually placed in the tombs of ancient Greek nobles.
The items - which include a glass perfume vial, clay idols and metal vessels - have been taken to the National Archaeological Museum in the capital, Athens.
No details were given of the treasures' provenance.
"We have an ongoing project to protect our cultural heritage and reclaim lost treasures," said Citizen's Protection Minister Christos Papoutsis.