Q&A: French Socialist presidential primaries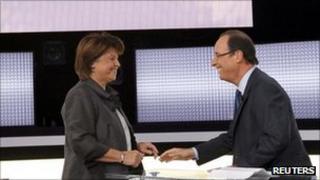 The French Socialist Party has held primaries ahead of next year's presidential election, hoping to reverse its fortunes and command the country's top job for the first time in almost a quarter of a century.
After the first round failed to produce an outright winner, favourite Francois Hollande was propelled to a run-off against Martine Aubry.
Dominique Strauss-Kahn, the former head of the International Monetary Fund, was once tipped to lead the party to victory.
However, he dropped out of the race when he was accused of a sex attack on a New York hotel maid in May. The charges were later dropped.
Q: How do the primaries work?
This year, for the first time, the Socialists have chosen American-style open primaries, rather than a poll of party members, to choose their presidential candidate.
After three months of campaigning, including three TV debates, the first round of voting was held on 9 October. The run-off is due on 16 October.
Voting was open to any French adult willing to pay a nominal fee of one euro and sign a pledge that they support "the values of the left".
Members of the Socialist Party or the Socialist Youth who are under 18 years old or of foreign nationality could also vote, if they registered before 13 July.
Q: Why opt for a primary system?
The Socialists are desperate to win the presidential election and they want to make sure their candidate has widespread popular support - which might not be the case if he or she were selected by party members only.
Since the beginning of the Fifth Republic in 1958, the Socialists have had only one president - Francois Mitterrand, who served two terms from 1981 to 1995.
In 1995 Jacques Chirac defeated Lionel Jospin. Seven years later, the sympathisers of the left had to vote for right-wing Mr Chirac to avert a victory for far-right leader Jean-Marie Le Pen, who had surprisingly made it to the second round.
Segolene Royal lost the last election - in 2007 - to the current president, Nicolas Sarkozy.
The Socialists have talked about a long-lasting "leadership crisis" in their party.
They are hoping that a candidate selected by a popular vote will gather the support of all the party elite - who have long been split by in-fighting - and will have a better chance of beating President Sarkozy.
Q: Who is running?
In total, six candidates competed in the first round of the vote.
Former party leader Francois Hollande took the largest share of the vote, at 39%, followed by Martine Aubry, the current party leader, who polled 30%.
One of the younger candidates, Arnaud Montebourg, scored 17%, followed by 2007 Socialist candidate Segolene Royal on 7%, moderate Manuel Valls on 6% and Jean-Michel Baylet, who took less than 1%.
All four of the defeated candidates pledged their support for Mr Hollande in the second round.
Q: Any surprises?
The healthy result of Arnaud Montebourg, who campaigned on a protectionist platform, surprised many.
It was also a surprise for some to see Ms Royal throw her support behind Mr Hollande, her former partner and father of her children. Their relations have often been acrimonious since they parted.
She said Mr Hollande shared her goals of reforming banks, fighting lay-offs, restoring morality to public life, banning politicians from holding multiple elected offices and building a new, green economy.
Q: Can they beat Sarkozy?
The current president has been getting an approval rating of between 30-35% for some time now.
On 25 September, for the first time in 50 years, Mr Sarkozy's centre-right coalition lost control of the Senate.
The Socialists gained 49% of the vote in the 2008 local elections compared to the 47.5% for the ruling UMP. They also scored a decisive victory over the UMP in local elections in March this year.
All the polls suggest that the French are ready to vote for the left this time.
A poll, conducted by LH2 for Yahoo! at the end of September, says that, should Francois Hollande face Nicolas Sarkozy in the election run-off next year, he would win comfortably with 60% of the vote.
Martine Aubry would have a slightly smaller margin, but would still win, with 57% of the vote.
Q: What about Strauss-Kahn?
Although DSK, as he is known, is not running, he may still play an important role in the presidential race - though it is not clear yet whether his support will be an asset or a burden.
The diplomatic and managerial talents of the former IMF head are valued in France, currently suffering an economic crisis.
But although the case against him in New York fell apart, a series of other revelations about his conduct with women have tarnished his image.
BBC Monitoring selects and translates news from radio, television, press, news agencies and the internet from 150 countries in more than 70 languages. It is based in Caversham, UK, and has several bureaux abroad.