Poland heads into close-fought election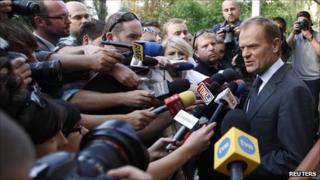 The state of the economy is often decisive in determining the outcome of an election - which is why many leaders would be dreading elections right now.
But, since Poland was the only EU country to avoid recession, the governing centre-right Civic Platform party should have good reason to look forward to parliamentary elections this Sunday.
At a bustling open-air market amid the tower blocks in Warsaw's Ursynow district, party activists and MPs are reminding voters that the economy is safe in their hands in these times of crisis.
Prominent among them is the country's Finance Minister, Jacek Rostowski. Born and educated in London, the economist has won international recognition for his handling of the crisis.
Although he is not without his detractors in his homeland, he is one of the acknowledged stars of the cabinet, and while other MPs sometimes find it hard to give their election leaflets away, people come up to him to ask for one.
That is not to say Poland has remained untouched by the financial crisis, but its relatively large domestic market, which reduces its dependence on exports and EU-funded public sector investments, helped it through the first wave.
In fact, Poland was the only EU member state to avoid recession. This year its economy is forecast to grow around 4%, the highest rate among the EU's seven largest economies.
Greater expectations
Jacek Padee, a young director for successful Polish company Topsil, which manufactures silicone seals for washing machines and other household appliances, says the government's handling of the first wave of the crisis is the main reason he is planning to vote for Civic Platform again.
"Out of the three main political forces that were in power for the last 10 years, I think this is the one that has proved to be the most reasonable, professional and responsible in economic matters most of all," Mr Padee told the BBC.
"I think they are the best guarantee for us in the second wave of crisis and to keep the economy going in the next four years."
At the company's impressive modern factory outside Warsaw, Mr Padee says the company's decision to invest in new machinery with the help of EU funds when prices were lower at the start of the crisis has given it a competitive edge over its Western rivals. The company's sales grew by almost one third last year.
However, some analysts believe the government's handling of the crisis may not give it the expected pay-off.
"There will be no direct translation into votes because Poles are not comparing themselves continuously with other nations, they are comparing themselves with their aspirations and expectations - and they have been rapidly growing during recent years because Poland is undergoing a very fast transformation," Professor Andrzej Rychard, a sociologist for the Polish Academy of Sciences, told the BBC.
"That's why people are expecting more and more."
Poland has been changing rapidly since democracy was restored in 1989 but the destruction during World War II - in proportion to its size it suffered more damage and casualties than any other country - followed by more than four decades of communism, means the country is still much poorer than its western neighbours.
Civic Platform won election four years ago on the back of promises such as transforming Poland into a new Ireland.
Times have changed so much that to make such a promise would seem ridiculous now, but many of the party's voters believe it failed to carry out badly needed economic and social reforms when growth was higher in pre-crisis days.
Effective challenge
The main opposition Law and Justice party - which could also be classified as centre-right, but which tends to favour greater state intervention and uphold Roman Catholic and patriotic values more than Civic Platform - has been quite skilfully exploiting the government's failure to improve living conditions for those Poles who feel left behind by the country's transformation.
Before the campaign the party focused on the Smolensk air disaster in April 2010 in which President Lech Kaczynski and all 95 others on board, including dozens of senior state figures, were killed.
Law and Justice is led by Jaroslaw Kaczynski, the late president's twin brother. Both Russian and Polish investigations found pilot error was the chief cause of the accident, but Jaroslaw Kaczynski accuses the government of bearing moral responsibility for the tragedy for failures in the flight's preparations.
Mr Kaczynski has barely mentioned the disaster during this campaign and has notably softened his rhetoric. Some recent opinion polls have seen the party cut Civic Platform's lead to just a couple of points.
"Law and Justice found a way to change their rhetoric without changing the substantial content of their message," Professor Rychard said.
"Once they changed the language they got additional support. Also their leader became less aggressive, and this works."
At this stage the result looks too close to call. What seems certain is that no party will win enough votes to govern on their own so the country will face a period of uncertainty as attempts are made to form a coalition.