Martin McGuinness's bank statement shows income and expenditure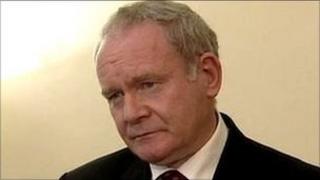 Sinn Fein has released a bank statement which it says shows the monthly income and expenditure of its Irish presidential candidate Martin McGuinness.
Mr McGuinness said, if elected, he would only take the average wage and give the rest back to the Irish people.
On Monday, another candidate, Mary Davis released her P60 to show her earnings in 2010.
The president will receive a salary of 249,014 euros.
Martin McGuinness said he believed it was "high time those at the top shared the pain and showed a bit of empathy with the rest of us".
He claims he receives an income of £370.38 per week after tax.
Martin McGuinness's bank statement
[860kb]
In a letter from the Bank of Ireland's Strand Road branch in Londonderry, dated 4 October 2011, commercial branch manager, Sean Hegarty says Sinn Fein currently pay £1,605 into the account of Mr McGuinness and his wife, Bernadette.
Expenditure
Mr Hegarty also said that apart from "very occasional expense funds, this appears to be the only funds received into this account on a regular basis".
Sinn Fein also released a bank statement for Mr McGuinness and his wife, which details their expenditure from 31 March 2011 until 27 September 2011.
During the period, Mr McGuinness received a monthly payment from Sinn Fein into the account, which ranged from £1,515 on 21 April to £1,605 in August and September.
A payment of £500 for expenses was paid into the account on 17 May 2011.
The statement shows that 24 purchases were made by debit card at the supermarket Asda.
Two purchases were made at Tesco Stores and three at B&Q.
Mr McGuinness also made three purchases at Fosters Man clothes shop, but it is unclear if he or his wife made the one purchase at Next, and the two at JJB Sports.
'Clarity'
Mr McGuinness released details of his bank account for public scrutiny a day after independent candidate Mary Davis revealed details of her P60 on her campaign website.
Ms Davis said she had done it for the "purpose of clarity".
Harry Magee, the political correspondent of the Irish Times, said, this forced the other candidates to do the same.
"It all started with Mary Davis, who came under pressure to show the income she gets from the many state boards on which she sat," he said.
"In the end she decided on the nuclear option and published details of her salary and of all the incomes she has got from boards over the last 10 years.
"Sean Gallagher quickly followed suit and published all his public income. So immediately the pressure fell on other candidates to do likewise, Martin McGuinness has now done that and David Norris has come under pressure to explain some of the income that he made over the past 20 or 30 years.
"It has become a dominant theme of the campaign. At the moment each candidate feels compelled to be as honest as possible with the public about their income and outgoings."
On Wednesday, Mr Norris confirmed he was in receipt of disability payments from Trinity College for 16 years while a sitting senator.
He said the payments started in 1994 after he contracted hepatitis from drinking water in central Europe.
He said the university had him examined by a medical consultant to confirm his illness.
Asked if he thought it was wrong to be in receipt of disability payments while working as a full-time senator, Mr Norris replied that senators may have other income outside of the Seanad.
He also said that despite drawing disability payments for 16 years he was fit enough to be president.
The election will take place on 27 October.